Horizon Shipbuilding Delivers Landing Barge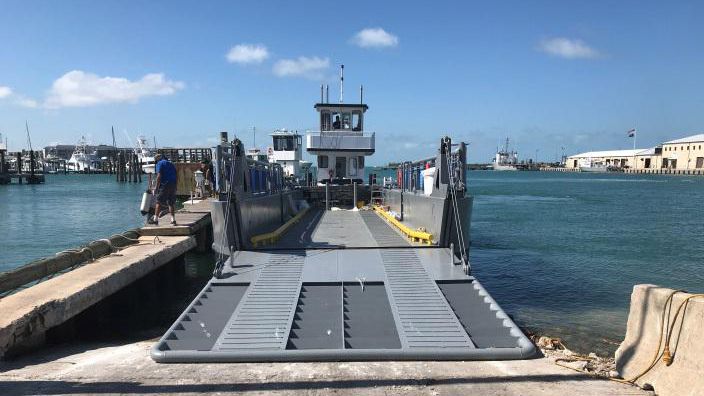 Horizon Shipbuilding, Inc. has delivered a landing barge to its newest client, Sunset Key Transportation Corporation. The barge is 60' long with an 18' molded beam. The purpose of the barge is to provide access to the exclusive Sunset Key Resort located on a small island near Key West, Florida. The barge replaces venerable LCM8 boats that were purchased from US Government salvage and refurbished but have reached the end of their service life.
Detail design was performed by Horizon's in-house engineering department based on a basic design created by Shipwright, LLC of Fort Lauderdale, Florida. Horizon enlisted longtime team member Gulf Coast Air and Hydraulics for the ramp hydraulic system.
"We were sourcing shipyards that could deliver quickly and Horizon provided that. During construction Hurricane Irma hit Key West, which created even more urgency for the barge," said Barry Kimball, Executive Program Manager. "Horizon redoubled their efforts to get us this critical asset as soon as possible, which is appreciated."
"This project is a testament that Horizon is open for business and remains capable of producing a quality boat at a good price," Travis R. Short, Horizon's President, remarked. "I'm also quite proud that my team was able to deliver the relatively complex barge in 90 days, including the detail design work."
Horizon had a very successful showing at the 2017 Workboat Show in New Orleans. The company's 86' NYC Ferry was nominated as one of the significant boats of 2017 and Horizon's Vice President, Lance C. Lemcool, spoke on the subject of innovative shipbuilding at the Shipyard program on the second day of the show.
In addition to the landing barge, Horizon is nearing completion of an 88' USCG inspected bunker boat and is currently performing a comprehensive repair project on the TVA towboat Red Wagner in addition to other repair work.
About Horizon Shipbuilding Inc
Horizon Shipbuilding, Inc. (Horizon) is a "best value" shipyard founded in 1997 by a father-and-son team who bring more than 60 years combined experience in ship design, construction, operations, maintenance and repair. This broad-based experience has facilitated the design of vessels that are crew friendly and have a low cost of ownership. Horizon's guiding principles are based on the belief that satisfied customers are the best advertisement, and this philosophy has proven true by the many expressions of satisfaction from Horizon's customers over the past years. The entire management and employees are committed to the continuation of these principles, which provide the foundation for the production of quality vessels that have been in service for decades throughout the United States and around the world. Its GORDHEAD management software is the recipient of the 2016 Alabama Innovator of the Year Award for Manufacturing. For additional information please visit www.horizonshipbuilding.com and www.gordhead.com.
About Shipwright, llc.
Shipwright, llc is a global maritime technical consulting firm and leader in client focused solutions. The team's experience includes design of award-winning vessels, original and novel contributions to advanced vessel design, successful in-service modifications of stability, structural, electrical and mechanical systems and project management both small and large. Specific past endeavors of Shipwright principals include building and operating shipyards, founding and operating cruise lines, managing large global maritime companies, investing in and mentoring entrepreneurial start-ups and operating as licensed officers on vessels of all sizes and missions. To add a winning partner to your maritime team or for additional information visit www.shipwright.biz.
The products and services herein described in this press release are not endorsed by The Maritime Executive.