Hogia in the Glimmer of the Eastern Emerald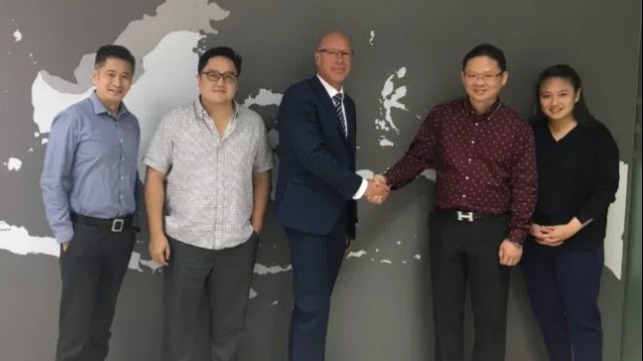 Software company Hogia Ferry Systems has signed an agreement with Indonesian Ro-Ro operator PT Jagat Zamrud Khatulistiwa (JZK). This is Hogia's first client in Indonesia, the beautiful country often called the Emerald of the Equator ("jagat zamrud khatulistiwa" in Indonesian) due to the green and lush rainforests.
JZK is a start-up operation, connecting the major cities of Jakarta and Surabaya on the north coast of Java island. Cargo transported between the two cities is today transported by trucks along the North Coast Road, also known as Jalur Pantura. More than 12,000 trucks use this heavily congested and damaged road every day. The 800km journey takes three driving days, requiring two drivers per truck. JZK, with their two vessels operating at around 18 knots, can cover the same distance sailing along the coastline in around one day, and it requires no accompanying drivers.
Niclas Blomstrom, Managing Director at Hogia Ferry Systems says: "It is clearly our ambition to expand our business in Asia, and we are really proud to form a business partnership with JZK. I hope that the many trucking companies and cargo owners recognize the benefits that JZK's service offers. This start-up deserves every success and we will do our utmost to support them."
Hogia Ferry Systems is a standard software supplier, providing ferry operators with reservation systems, advanced real-time passenger information systems and other transport related solutions. The main product is called the BOOKIT Reservation System.
The BOOKIT implementation project went smoothly, and JZK has already made close to 50 successful sailings.
Hogia Ferry Systems is part of the Hogia Group, one of Sweden's largest software companies. The Hogia Group comprises 27 companies in Scandinavia and the United Kingdom with a total of 600 employees. With software as a common denominator, the Hogia Group currently operates in three business areas: finance and business systems, human resource systems, and transport systems.
The transport business area focuses on delivering integrated solutions for ferry reservations, port terminal operating, road transport and public transport to customers in Europe, Asia, Australia, Africa, North and South America.
The products and services herein described in this press release are not endorsed by The Maritime Executive.