Damen Re-Signs as Founding Partner of the Nederlands Dans Theater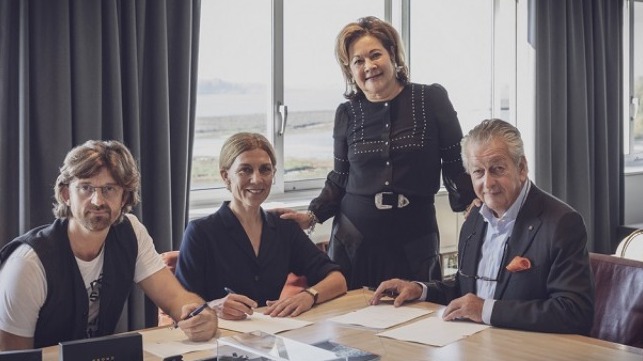 The long-term partnership between the Damen Shipyards Group and the Nederlands Dans Theater (NDT) continues. After 10 years, Damen signs for another three years of founding partnership with the dance company.
Kommer and Josine Damen have long been admirers of the passionate, international, innovative and dynamic spirit of the Nederlands Dans Theater. These qualities also embody the heart of the Damen Shipyards Group, and therefore their support of the Nederlands Dans Theater was a particularly worthwhile enterprise. "We are exceedingly proud of the long collaboration with the Nederlands Dans Theater. The dancers' amazing technique combined with the endless energy and continual renewal of the company still amazes us, and the world," say Kommer and Josine Damen.
The continuation of this partnership is also of great importance for the NDT. Thanks to the significant support, NDT has the opportunity to continue to fulfil its role as a prominent company at home and abroad. In the heyday of subsidy shortages in art and culture, NDT and many other cultural organizations were compelled to examine and implement new types of cultural entrepreneurship. With this in mind, in 2008 the Damen Shipyards Group became the First Founding Partner of the NDT and thus one of the most significant sponsor of the dance company.
"Damen is our immense support and ally. We share a long and engaging history. Kommer and Josine Damen have been closely involved with the Nederlands Dans Theater since day one," says Janine Dijkmeijer, General Director of the Nederlands Dans Theater. "First as admirers, and a few years later as board members, and now for over 10 years as First Founding Partner. And naturally, as such, they are part of the NDT family. Therefore we are particularly happy that we are continuing our relationship and look forward to all of the beautiful things we will experience together."
The renewal of this partnership is also an important step for Paul Lightfoot, artistic director of the NDT: "NDT constantly aims to push its own boundaries by exploring the forces of creativity and therefore are fortunate and thankful for the tremendous support we have received from Damen Shipyards - an innovative and creative company in its own right. Ours is a truly special connection, and as surprising as our relationship might appear the joining of our respective forces has brought both Damen and NDT tremendous pleasure and joy. We are thrilled to continue this union and look forward to further nurturing and sharing in this special exchange!"
The products and services herein described in this press release are not endorsed by The Maritime Executive.