Damen Delivers Cutter Suction Dredger 450 to Vesirakennus Ojanen Oy in Finland
First Damen CSD in the Scandinavian market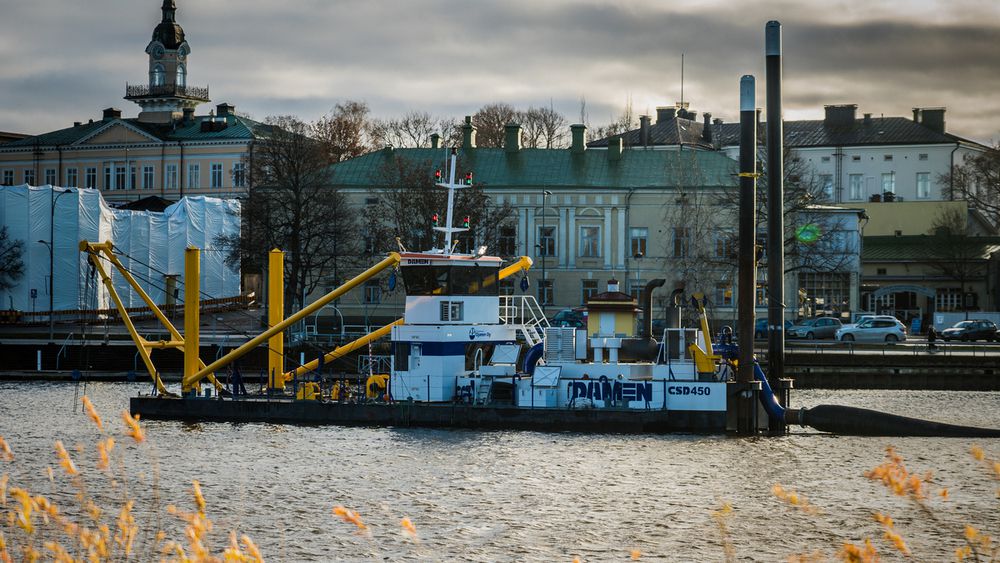 Damen has delivered a Cutter Suction Dredger 450 to Vesirakennus Ojanen Oy in Finland. This is the first time a Damen Cutter Suction Dredger has been deployed in the Scandinavian market.
The new dredger was delivered in only a few weeks from stock and has been put to work straight away in the Port of Pori, where it is dredging at a depth of 4.5 metres.
Olivier Marcus, Damen Product Director Dredging, commented: "We are delighted to have had a breakthrough with the first CSD in the region. Scandinavia is traditionally a 'backhoe market', where pontoons with cranes are used and the dredged material is loaded into barges."
Continuous production
The Damen CSD450, which can dredge up to 14 metres deep, offers Vesirakennus Ojanen Oy the advantage that it has continuous production via the CSD's pipeline to the designated disposal areas, he added.
A Damen CSD is suited to ports and rivers that have a lot siltation and stones, and it is also a robust machine, well able to operate in harsher, icy conditions. These dredgers are also active in the Arctic, Canada and Russia.
A major reason Vesirakennus Ojanen Oy chose a Damen CSD450 was because it was available directly from stock and could be delivered in just a few weeks. Sami Ojanen, owner and director, comments on why the company chose the new Damen CSD: "Our company saw the CSD450 as the perfect fit technically and because of Damen's technical support. The increased pumping distance provided by the new dredger also enables us to expand the range of the projects we can carry out.
"We have also been surprised by the production potential of the CSD450 and its fuel efficiency per cubic inch. In addition to that, the CSD's ease of operation was a deciding factor as well."
Dredger & options directly from stock
Damen also holds several optional extras in stock. The Vesirakennus Ojanen Oy dredger was customised with a day accommodation unit added beneath the control cabin with a capacity for four people. The Finnish company also decided to add the option of an anchor boom system.
Remko Bouma, Damen Sales Manager North, West & South Europe, added: "Damen has a wide variety of options in stock. It is plug & play - all the foundations are built into the vessel already, so a customer can get up and running in just a few weeks." Damen also carried out the dredger's commissioning and trained the crew on site in Pori.
Another option included is a 'navigation package' (signal lights, deck lights and search lights). This is very important for a country like Finland, which only gets a few hours of daylight in the winter. The company also chose Damen's navigation package for precision dredging and monitoring. The next step can be a production measurement system, which enables the customer to be comprehensively informed about the performance of the dredger. To be able to dredge in shallow waters the dredger is also delivered with a wedge piece, which can be placed between the cutter unit and cutter ladder to guarantee the right angle of the cutter.
Dismountable
Mr Marcus emphasised: "All the Damen Cutter Suction Dredgers are dismountable, so it is easy to transport them. In this case the dredger could be transported to Finland in a very short time and when this job is completed it can easily be transported to the next project."
Damen has previously delivered two DOP pumps to Vesirakennus Ojanen Oy, which was founded in 2003. The DOP pumps are used to fill Geotubes with dredged material. By pumping in these tubes the water is being drained and the filled bags can be stored or even used to construct dams, riverbanks and walls etc.
Damen Shipyards Group
Damen Shipyards Group operates 33 shipbuilding and repair yards, employing 9,000 people worldwide. Damen has delivered more than 6,000 vessels in more than 100 countries and delivers some 180 vessels annually to customers worldwide. Based on its unique, standardised ship-design concept Damen is able to guarantee consistent quality.
Damen's focus on standardisation, modular construction and keeping vessels in stock leads to short delivery times, low 'total cost of ownership', high resale values and reliable performance. Furthermore, Damen vessels are based on thorough R&D and proven technology.
Damen offers a wide range of products, including tugs, workboats, naval and patrol vessels, high speed craft, cargo vessels, dredgers, vessels for the offshore industry, ferries, pontoons and superyachts.
For nearly all vessel types Damen offers a broad range of services, including maintenance, spare parts delivery, training and the transfer of (shipbuilding) know-how. Damen also offers a variety of marine components, such as nozzles, rudders, anchors, anchor chains and steel works.
Damen Shiprepair & Conversion (DSC) has a worldwide network of sixteen repair and conversion yards of which twelve are located in North West Europe. Facilities at the yards include more than 50 floating and (covered) drydocks, the largest of which is 420 x 90 metres, as well as slopes, ship lifts and indoor halls. Projects range from the smallest simple repairs through Class' maintenance to complex refits and the complete conversion of large offshore structures. DSC completes around 1,350 repair and maintenance jobs annually, both at yards as well as in ports and during voyage. www.damen.com
The products and services herein described in this press release are not endorsed by The Maritime Executive.