Crane Vessel Hermod Hits 200,000 Hours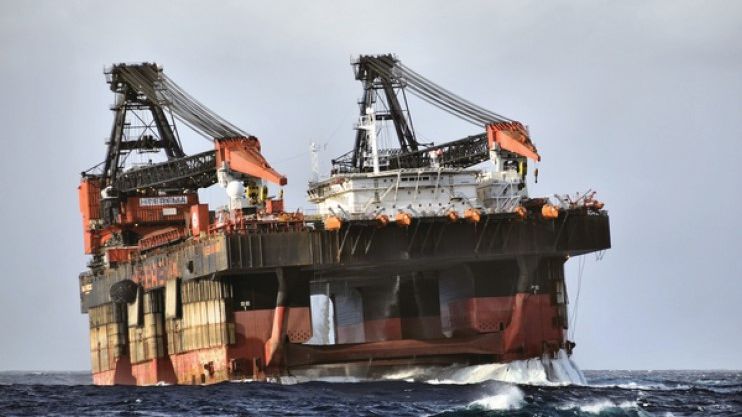 A special celebration took place recently in Rotterdam to honour the 'Hermod', a semi-submersible crane vessel (SSCV) and part of the fleet of Heerema Marine Contractors, the international offshore hydrocarbon industry player. Powered by 7 × MAN 16 ASV 25/30 engines, each with a power output of 2,900 kW, Hermod's engine #3 passed 200,000 operating hours on August 2.
Lex Nijsen, Head of Four-Stroke Marine at MAN Diesel & Turbo, said: "Unit #3 is the first of Hermod's engines to reach this impressive mark, and has done so without major problems. Indeed, I'm told the engine still has its original crankshaft and has never been out of service for unforeseen reasons. I congratulate Heerema and the Hermod on this truly remarkable achievement that stands as testament to the quality of its crew and MAN engines."
Hermod was built in Japan in 1978 by Mitsui Engineering & Shipbuilding Company Ltd. At 154 × 86 m, it is capable of a tandem lift of 8,100 t and still ranks as the world's third-largest heavy-lift vessel.
The Rotterdam event took place in the Hermod's engine-control room and was led by current Chief Engineer, Jan Terpstra, with guests including current and past representatives from both MAN Benelux and the SSCV's engine-room personnel.
Engine #3 was constructed at MAN's Augsburg works in Germany and underwent its first trial there in December 1977. Present on that very day almost 40 years ago was a certain Bram Sprokkereef in his capacity as Rollo service manager involved in the newbuilding and commissioning of the engine. In a happy twist of fate, Sprokkereef's son – current MAN Benelux Sales Manager, Egbert Sprokkereef – was present in Rotterdam with his own sons to witness engine #3 round 200,000 hours.
About MAN Diesel & Turbo
MAN Diesel & Turbo SE, based in Augsburg, Germany, is the world's leading provider of large-bore diesel engines and turbomachinery for marine and stationary applications. It designs two-stroke and four-stroke engines that are manufactured both by the company and by its licensees. The engines have power outputs ranging from 450 kW to 87 MW. MAN Diesel & Turbo also designs and manufactures gas turbines of up to 30 MW, steam turbines of up to 150 MW and compressors with volume flows of up to 1.5 million m³/h and pressures of up to 1,000 bar. The product range is rounded off by turbochargers, propellers, gas engines and chemical reactors.
MAN Diesel & Turbo's range of goods includes complete marine propulsion systems, turbomachinery units for the oil & gas as well as the process industries and complete power plant solutions. Customers receive worldwide after-sales services marketed under the MAN PrimeServ brand. The company employs around 15,000 staff at more than 100 international sites, primarily in Germany, Denmark, France, Switzerland, the Czech Republic, India and China. MAN Diesel & Turbo is a company in the Power Engineering business area of MAN SE. http://dieselturbo.man.eu
The products and services herein described in this press release are not endorsed by The Maritime Executive.