CJC Appoints Trio to Reinforce Dual Strategy for Growth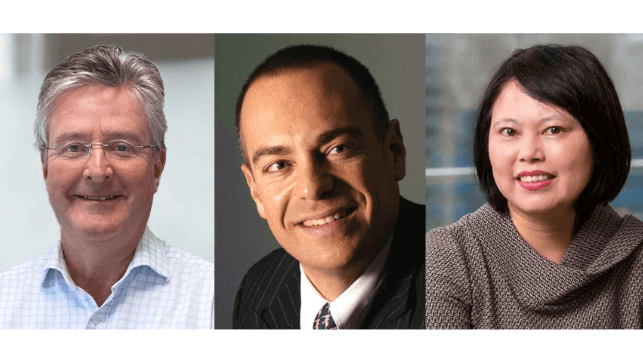 [By: Campbell Johnston Clark]
Three senior appointments by Campbell Johnston Clark (CJC) have reinforced the international maritime law firm's strategy to grow both its litigation and transactional activities. All three individuals join CJC's London office from another maritime law firm.
Highly experienced dispute resolution specialist Chris Kidd has joined CJC as Director, at Partner level, with immediate effect. In two further appointments, Stuart Plotnek has joined CJC's transactional team as Managing Associate and Jeong-Sook Kim has joined the litigation team as Associate Solicitor.
Chris Kidd is well-known for his role in ship construction, ship repair and conversion work, with "vast experience in shipbuilding" acknowledged in his LEGAL 500 directory entry. He advises yards, buyers, banks and others on contract drafting/negotiation, refund guarantees, performance guarantees, consultancy agreements, design agreements and service agreements. Recent work has covered MODUs, LNG carriers, wind turbine installation vessels, offshore support vessels, cruise ships, passenger ferries and superyachts as well as conventional vessels.
Kidd also offered consultation to BIMCO on the development of the standard form industry contracts NEWBUILDCON, CONVERSIONCON, SUPPLYTIME 2017, WINDTIME, refund guarantee, and novations for shipbuilding contracts and charterparties. His work covers complex and multi-jurisdictional disputes, and has included cases heard in the Commercial Court, Hong Kong Courts and the House of Lords.
CJC Associate Jeong-Sook Kim specialises in shipping, marine insurance, and trade, with a focus on contentious matters. She advises owners, charterers, P&I Clubs and insurers on a variety of matters, including contractual disputes arising under charterparties, bills of lading and insurance policies. With experience as a broker, and as an underwriting director at a leading P&I Club with responsibility for the Asian market, she has also established strong relationships across multiple industry disciplines.

CJC Managing Associate Stuart Plotnek brings 33 years of experience as a non-contentious maritime lawyer to the firm. His expertise extends to all aspects of vessel sale and purchase, newbuilding resale contracts, bareboat charters, ship and mortgage registration, management contracts and novations. Plotnek is highly experienced in drafting sale contracts, delivery documentation and the closing procedure, and has contributed to "Strong & Herring – Sale of Ships: The Norwegian Saleform".

"We continue to attract the most talented maritime lawyers to CJC, and we are looking forward to working with Chris, Stuart and Jeong-Sook as CJC grows both the litigation and transactional sides of its business," said Alistair Johnston, Director, CJC. "We are delighted to welcome them to CJC."

Short also took the opportunity to welcome two new trainees to the fold, with William Reed starting in CJC's Newcastle office in October, and Dimitris Kroustalis confirmed as joining the London office this month. "Our commitment to new talent continues to be critical to the CJC success story," said Johnstone.
The products and services herein described in this press release are not endorsed by The Maritime Executive.