Checking the State of a Stern Tube Seal with Augmented Reality
AEGIR-Marine launches two Augmented Reality Applications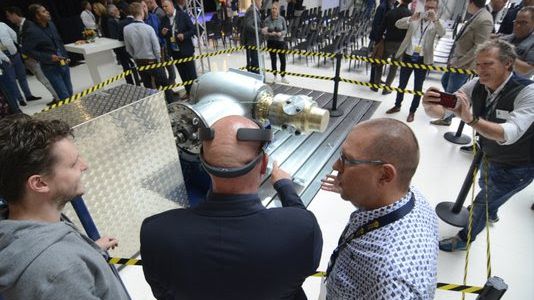 AEGIR-Marine is implementing augmented reality to increase the quality of its service activities. For this purpose, the company commissioned Artishock to build two AR applications. The apps are also available for training purposes.
Augmented reality can be an ideal tool for service engineers in maintaining and repairing large maritime propulsion systems. In addition, it is the ideal way to master the service engineering trade. Rob de Wit, Knowledge & Quality Manager at AEGIR-Marine: "Building an augmented reality app matches the strategy of an innovative company like AEGIR-Marine to educate its employees. We are busy incorporating this kind of learning tools in our own new AEGIR-Marine Academy."
See the seal in detail
One of the two augmented reality apps of AEGIR-Marine runs on a tablet. By pointing the tablet at the image of an existing stern tube seal, the app generates an additional 3D layer. Within the app, engineers can then walk virtually around the propulsion unit of a ship and look at the seal in detail. The seal "comes to life", and the service engineer is able follow the work in progress, step by step.
Virtually turn the propulsion unit
The second augmented reality app of AEGIR-Marine is even more advanced. With this app a bow thruster is brought to life through a HoloLens (augmented reality goggles). De Wit: "When we overhauled a bow thruster, we will test it intensively. We have to check if the bearings and gears meet the demands and do overheat due to friction. Also, we will check if the unit does not vibrate or makes too much noise. This so-called spin test can also be viewed in 3D through the HoloLens. Not only are we able to zoom in on details, we also get information about all the components, the actual unit temperature and its speed. In addition, you can walk around, zoom in and look at the bearings, shaft and seal in detail. It is also possible to virtually turn or shift the unit with your hands through the HoloLens, while the actual engine is switched off. Moreover, you can pick up the spin test unit and place it next to a real unit so you can compare them both and check for deviations."
The future is now
The augmented reality apps are great tools to train engineers and better inform customers about what we do. De Wit: "In the future, the HoloLens can even be used by the engineers to consult instructional documents, drawings and manuals during their inspection work. This allows us to work even more efficiently. Augmented reality is not the future, it's already a reality for AEGIR-Marine."
About AEGIR-Marine
AEGIR-Marine is a full service provider for stern tube seals and propulsion systems for the maritime industry. The company focuses on exceptional quality service for both ship owners and ship managers. AEGIR-Marine was established in 2000. Since then the company managed to become a major supplier of independent maritime spare parts and services for all main maritime propulsion systems. AEGIR-Marine's headquarters are located in Wijk bij Duurstede, the Netherlands. The company also has offices in Namibia, Singapore, China and the USA from where Service Engineers can be dispatched globally. Besides its offices, AEGIR-Marine works with a network of professional agents. From Canada to Chile, from South Africa to Estonia and from Greece to Japan. More information is available via www.aegirmarine.com.
The products and services herein described in this press release are not endorsed by The Maritime Executive.