BMT Nigel Gee-Designed Njord Odin Completes Sea Trials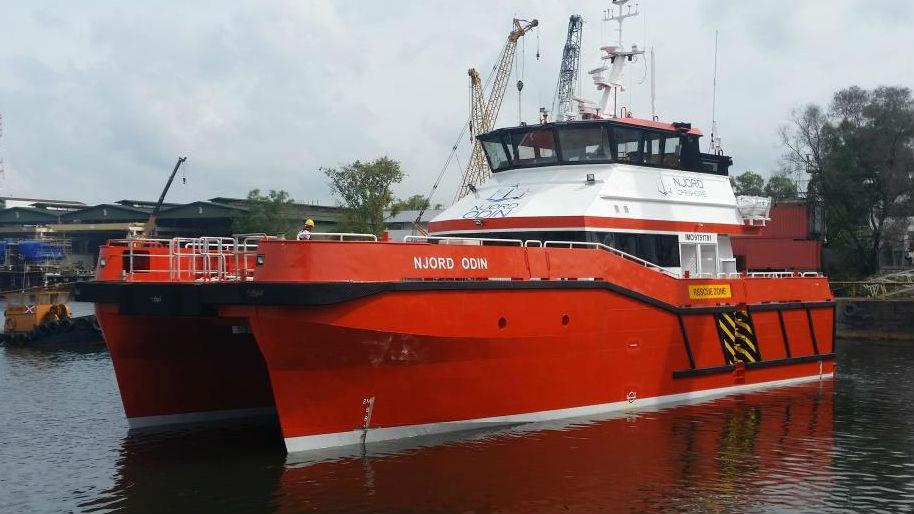 BMT Nigel Gee (BMT), a subsidiary of BMT Group, is pleased to announce the successful completion of sea trials for Njord Odin, the first of a series of advanced 26m windfarm support vessels (WSV) for Njord Offshore. Developed from BMT's well-established range of WSVs, these are the largest BMT designed vessels built to date.
Built by Strategic Marine, Njord Odin is also the first to be fitted with a quadruple installation of the Volvo Penta IPS system, with the forward-facing, twin counter-rotating propellers and individually steerable pods under the hull. The IPS system offers high propulsive efficiency combined with excellent maneuverability, dynamic positioning, as well as excellent bollard pull which is of paramount importance on a wind farm.
Tom Mehew, Director at Njord Offshore comments: "Our clients demand efficiency and redundancy in our service and comfort for their technicians whilst operating in tougher, more inclement conditions. We believe Njord Odin will deliver on all fronts. BMT and Strategic Marine have done an excellent job and we're delighted with the performance and sea trials results."
The vessel is 26.3m in length with a beam of 9.3m with each of the four Volvo IPS900 units delivering 515 kW. The vessel is specifically designed for working further offshore with a fuel capacity of 29,000 liters and fresh water capacity of 2,900 liters. Njord Odin achieved a speed of in excess of 27 knots with 20 tons of deadweight and with the same deadweight will cruise at 25 knots with the engines running at 85% of their maximum continuous rating.
The vessel has extremely low noise levels thanks to the resiliently mounted superstructure and selection of propulsion machinery. Noise levels in the main accommodation are 60 dBA and 54 dBA in the wheelhouse whilst operating at 25 knots. The accommodation is extremely spacious with excellent visibility from all seating areas. Utilizing the patented Active Fender System, the vessel also benefits from significantly reduced impact forces when docking with boat landings.
Ed Dudson, Technical Director at BMT Nigel Gee comments: "Our designs are well proven with an excellent reputation for seakeeping and fuel economy. It is great to be providing these vessels together with Strategic Marine to Njord Offshore. Njord Odin is the first of our quad IPS designs and we are looking forward to seeing this new fleet of Njord Vessels joining the current fleet which includes 8, 21m BMT designed vessels."
The products and services herein described in this press release are not endorsed by The Maritime Executive.