Americraft Marine Group Expands HSE Program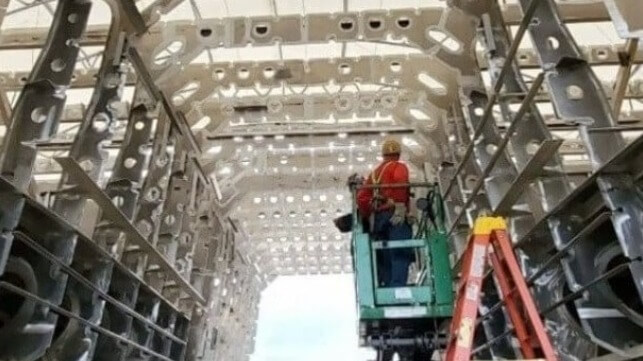 St. Johns Ship Building, a subsidiary of Americraft Marine Group, announces the appointment of Nick Nelson as their first HSEOfficer. Nick has over a decade of service with St Johns Ship Building, most recently acting as Yard Safety Manager.
"I am proud to accept my new role as HSE Officer within St. Johns Ship Building. I expect to participate in an increased effort to protect our employees from the hazards of the industry by implementing additional new policies and procedures as well as increased oversight and training. As we continue to grow, so will our efforts and commitment to protecting our employees and environment. Just as we care for the well-being of our employees and their families, we are also making strides to protect our planet." Nick Nelson, HSE Officer, St. Johns Ship Building.
An additional HSE initiative launched for 2023 is the official partnering with Green Marine to utilize their established blueprint for working towards goals that will reduce our carbon footprint. As a partner with Green Marine, St Johns Ship Building will not only be addressing many environmental challenges related to shipbuilding and repair but will also begin working directly within the community to form relationships with local organizations, NGOs, and other outreach programs. More details are available at www.green-marine.org.
"The creation of this new HSE position within our shipyard facility will allow our company to prioritize our goals of environmental stewardship and focus more resources towards the increased health and safety of our employees. These initiatives align more completely with Americraft's core values and mission", said Ed Sheets, Executive Vice President of Americraft Marine Group.
Americraft Marine Group, a maritime subsidiary of the U.S. headquartered privately-owned business group, Libra Group, was launched to support and strengthen the U.S. shipbuilding industry and infrastructure to build St. Johns Ship Building as a center of excellence in Jones Act shipbuilding. This includes building on its 15 years of experience to help grow the number of stable, skilled jobs in the shipbuilding business while advancing the U.S. economy, competitiveness, and clean energy future.
For more information regarding Americraft Marine Group, please visit: https://www.americraftmarinegroup.com

The products and services herein described in this press release are not endorsed by The Maritime Executive.