All American Marine wins MARAD Small Shipyard Grant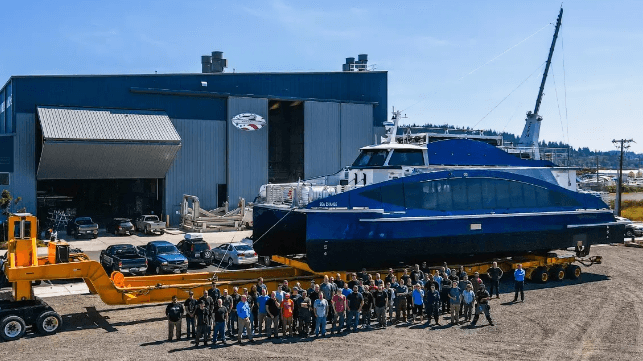 All American Marine, a leading manufacturer of US built, aluminum catamarans and monohulls, is proud to announce that it has been awarded a Small Shipyard Grant from the U.S. Department of Transportation's Maritime Administration (MARAD) in the amount of $916,000. The grant will be used to purchase and install a state-of-the-art 60' router table and a CNC press brake, significantly enhancing the company's manufacturing capabilities. The large router table with dual cutting heads will enable the company to cut materials with greater accuracy and speed, while the CNC press brake will allow for more precise and automated forming of metal parts.
"We are thrilled to receive this grant from MARAD," said Ron Wille, President & COO. "This investment in our company will allow us to remain competitive in the marketplace and continue to provide our customers with the highest quality products and services. Our shipyard builds the most cutting-edge and fuel-efficient workboats in the world. Our catamarans regularly utilize a hydrofoil system which is a key component to our success and a direct result of our collaboration with Teknicraft Design. These features maximize vessel performance and fuel efficiency by generating lift, reducing resistance. Our shipyard has seen increased customer demand for hydrofoil-equipped vessels, and this MARAD grant will allow us to build more of these environmentally friendly boats."
All American Marine is a pioneer in zero emissions solutions in the maritime industry and is committed to building the most technologically advanced vessels in the market and pushing the boundaries of what's possible on the water. Wille states, "All American Marine is proud of all our boats, notably the low and zero-emission boats we have constructed. Examples include the hydrogen fuel cell powered Sea Change and the hybrid-powered boats Enhydra and Waterman."
All American Marine is honored to be among the recipients of this grant and is excited to begin the process of purchasing and installing the new equipment. With this grant funding, All American Marine will continue to modernize and expand, creating new jobs and delivering state-of-the-art, highly efficient vessels.
The products and services herein described in this press release are not endorsed by The Maritime Executive.