VSAT Connectivity can Cut Costs for Asia's Fishing Fleet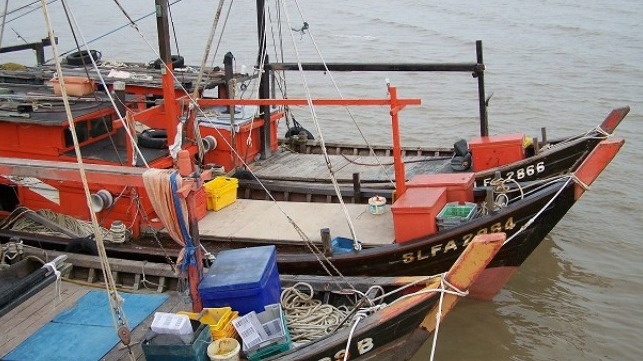 The burden is mounting for small and medium fisheries to comply with fresh regulations, designed to put the brakes on over-fishing. As dwindling supplies continue to squeeze budgets, a cost-efficient digital solution, in the form of satellite broadband connectivity, could make all the difference to these smaller businesses, keeping them connected with the tools they need to thrive.
Responsible for generating close to 60 percent of the globe's total catch, Asian small and mid-sized fisheries (SMEs) are bearing the brunt of the impact of an ever-increasing demand for supply. Putting it into perspective, the current per-capita fish consumption broke the 20kg mark last year. That's an increase of 39 percent from the 1990's. Looking back further, the 1960's per-capita consumption averaged at 9.9kg – as of 2017, fisheries in Asia are catering towards a demand that has increased by more than 102 percent.
Attempts by SMEs to keep up and capitalize on this relentless growth in demand has had its consequences. Fishing practices are under scrutiny with sustainability at the forefront of government legislation. Illegal fishing and over-fishing are being met with regulatory sanctions, particularly in Laos, Indonesia and Myanmar, in order to safeguard the industry from supply shortages that could have devastating impacts on local ecosystems and economies.
Margins are tightening around pre-existing guidance for the use of vessel monitoring systems (VMS), which has shone a spotlight on the ways in which data can be used to support the long-term effort. Data can be gathered in real-time, enabling instant reporting on a plethora of features, such as geographical and location information, catch and discards, and geo-fencing – producing a notification when a vessel crosses a boundary.
Currently, operational efficiencies are being front loaded, at the expense of sustainability, with dwindling supplies indicative of the extent of over-fishing. Heavily subsidized fleets now travel over 90 percent of global waters. However despite this, the catch per kilometer is only a third of that recorded 65 years ago.
In order to exact influential, measurable change, the evaluation of digital solutions is on the rise among SMEs, with the goal of positioning themselves as effective competitors to their larger counter-parts. The contents of fisheries' nets can be continually monitored for optimization. Landing forecasts can be instantly and accurately communicated directly to ports and fish markets, securing buyers ahead of time, resulting in a fresh product guarantee. Marine telematics also bolster optimization, running remote diagnostics for better asset efficiency, combined with route optimization based of fuel, weather and regulations, optimizing catch by kilometer.
Despite how strong these look on paper, the challenges that surround uptake of these technologies by small and medium vessels in the Asia-Pacific market boils down primarily to connectivity limitations and implementation costs.
The tactic deployed by many fisheries in order to register compliance with current over-fishing regulations is to use an Automatic Identification System (AIS), VMS and L-band satellite solutions. While efficient enough to provide a base-line digital solution, they are unable to generate the bandwidth needed to ignite more innovatory capabilities, unlike a VSAT system. Historically there are three main reasons that have prevented VSAT's more widespread deployment; namely:
1. There is a longstanding perception that the cost of buying and installing maritime VSAT solutions is out of reach for smaller and medium sized operators. Moreover, there is an out-dated expectation that the size of the VSAT terminal will increase the impact and time for installation – a concern for cost-sensitive businesses that can't afford any downtime for installation.
2. These days most smaller and medium operators recognize the value of enabling broadband services on their vessels, but they also don't think that they have the resources and/or knowledge needed to monitor and manage their connectivity.
3. In the current turbulent market, all prudent owners have their eyes firmly fixed on the bottom line. If they're going to install a new technology they're not interested in an upside that takes months to materialize. For this reason, the pay-per-use model associated with narrow-band satellite services remains popular. However, once their bandwidth requirements start to tick up, the cost of connectivity invariably rises with it, leaving a marginal net gain at best.
What's the alternative? A connected maritime solution underpinned by SES Networks' satellite broadband connectivity combines advanced wide-beam and high-throughput satellite capabilities, high-performance ground infrastructure and VSAT terminals optimized for the limited space on smaller vessels. It is provided as a managed service offering, giving SMEs the same connectivity experience as larger operations at a price to suit every budget. New data-enabled capabilities managed as an end-to-end service are leveling the playing field and enabling smaller vessels to implement the technologies they need to comply with regulations and operate more efficiently.
Stephen Conley is Global Maritime Segment Lead at SES Networks.
The opinions expressed herein are the author's and not necessarily those of The Maritime Executive.