Surface-Capable UUV Could Change Ocean Data Collection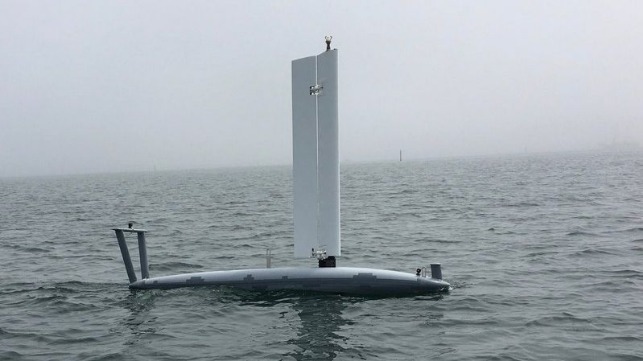 Unmanned underwater vehicles (UUVs) have been serving the U.S. Navy for decades in various forms, like remote sending platforms, programmable targets to train anti-submarine warfare (ASW) crews, and remotely-operated mine hunting drones. The Navy is enhancing its utilization of UUVs for a wide range of applications, from ocean mapping to underwater surveillance.
A UUV, also known as an underwater drone, is a submersible that operates without a human occupant. UUVs are classified as either remotely operated underwater vehicles (ROVs) and autonomous underwater vehicles (AUVs). ROVs are operated by a crew aboard a vessel, while an AUV is a robot that travels underwater without the need for an operator's input.
Submaran
Today, there are many companies that are developing UUVs for naval applications, including San Diego-based Ocean Aero. Its "Submaran" is a wind and solar powered platform that can travel on the surface and also submerge underwater, offering autonomy, self-sufficiency, and survivability for a wide range of missions.
The Submaran is a persistent, solar/wind powered autonomous vessel. It integrates the capabilities of a submarine and a surface sailing vessel and can gather a wide range of data, including environmental monitoring and sampling, remote area monitoring, oceanographic data gathering and hydrography. Potential applications include defense; surveillance; coastal law enforcement; and maritime security monitoring for assets like communication lines, offshore structures, seaports or vessels. It also offers an effective environmental monitoring solution for research or spill response.
Features
The Submaran's wingsail is designed for self-powered speed, maneuverability and autonomy. The deck is layered with solar panels for efficient power management and the vehicle is outfitted with an array of sensors and positioning instruments. With the combination of wind and solar power, a Submaran can be in service for months at sea. The vessel's small size makes it is difficult to detect while operating on the ocean's surface and nearly impossible to discover without sophisticated sensors when fully submerged.
The Submaran can continue to operate in heavy sea states and winds up to at least 25 knots. Beyond these circumstances, the wing will automatically fold into a "wing glove," the boat will partially submerge to "decks awash" and ride out the storm. Afterwards, the vessel resurfaces to full buoyancy, the wing rises, and the mission continues. This is one of the vessel's most unique and important operational capabilities and enhances its survivability and durability.
These autonomous vehicles are scalable from four meters and up. Ocean Aero currently has both small (four meter) and large (12 meter) versions in various stages of development and production at its facilities in San Diego. The first production model will be able to submerge up to 10 meters of water depth to avoid detection, bad weather, and collision. Ocean Aero is currently developing a model that can dive to and navigate at 200 m of depth.
The Submaran is a new class of self-powered, autonomous vessel design with both subsurface and surface versatility that has broad implications for ocean data collection, security, surveillance and environmental monitoring. With new, larger, vehicles that can carry deployable payloads, the future for Ocean Aero is bright.
Savaram Ravindra was born and raised in Hyderabad, popularly known as the 'City of Pearls'. He is presently working as a content contributor at Tekslate.com and Mindmajix.com. His previous professional experience includes programmer analyst at Cognizant Technology Solutions. He holds a masters degree in nanotechnology from VIT University. He can be contacted at[email protected]. Connect with him also on LinkedIn and Twitter.
The opinions expressed herein are the author's and not necessarily those of The Maritime Executive.