Preparing for Firefighting Communications Upgrades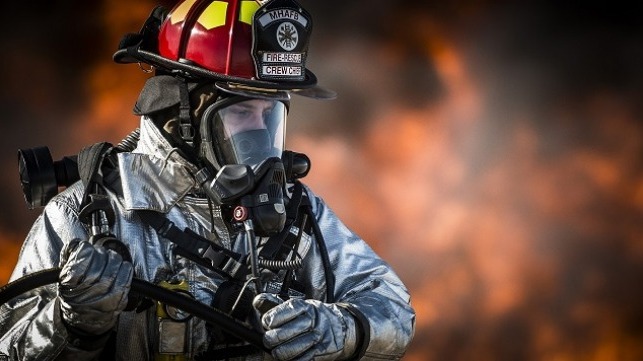 The maritime industry is currently preparing to upgrade communication equipment for firefighting teams onboard vessels in accordance with the new SOLAS Regulation II-2/10.10.4.
Fires and explosions presently account for 10 percent of shipping losses globally (Safety and Shipping Review 2017 by Allianz Global). Due to limited means of escape, fire incidents demand rapid action on a vessel. If the vessel's cargo is potentially flammable, the situation becomes worse.
In the backdrop of a fire incident onboard a Swedish tanker, IMO's Maritime Safety Committee in 2012 adopted amendments to SOLAS regulation asking for dedicated radio communication equipment for firefighters. This regulation initially became effective on July 1, 2014 on newbuilds, but from July 1 2018 would encompass all vessels.
As we get closer to the implementation of this regulation, vessel managers and owners have begun to finalize their plans to ensure compliance. However, a few challenges still remain:
Lack of technical knowledge about intrinsically safe products
The SOLAS regulation has specified intrinsically safe (IS) radios for firefighters' use. Oil, gas and chemical tankers already use IS type portable radios for onboard communication. However, over 60 percent of the global shipping fleet have not sourced IS radios before. Therefore there is general lack of information about IS products and their specifications in relation to the vessel's flag.
Ordinary radios have two shortcomings: they can emit tiny sparks and can become hot, both of which are enough to cause an explosion in hazardous environments. Therefore electrical equipment used in environments where flammable substances may be present are required to be intrinsically safe, i.e. they will not cause fire or explosion. IS two-way radios will typically have the following:
• Anti-static material
• Protected and encapsulated circuitry
• Prevention of sparks and overheating
• Certification of intrinsic safety by accredited labs
Certification of IS radios is given according to specific standards which categorize flammable areas into zones and substances into groups. There are various standards used globally, some of which are country specific, however the following three are widely accepted.
• ATEX - EU directive for equipment used in explosive atmospheres
• UL (Underwriter Laboratories) - global safety certification company headquartered in the USA
• IECEx - International Electrotechnical Commission System
It will be important for shipping companies to check with their class societies to understand the right standard applicable to their vessels depending on its flag and type.
Incomplete solution for firefighters
The SOLAS regulation is quite broad. Apart from specifying the type of radio equipment (IS) and its quantity (two per fire-party), it does not lay down any performance standard or need for additional accessories to operate the products. Procurement managers have a challenge in fully understanding the firefighting application and source equipment that is fit for purpose, not just fit for compliance.
Firefighters are unlike other users of radio equipment, because they wear face masks and heavy duty gloves. With covered faces, it is impossible for them to speak into a portable radio, and with gloved hands they have a limited ability to handle buttons on the equipment.
Radio communication is widely used by firefighters on land, therefore various solutions have matured over the years for this application. The limitations caused by face masks and gloves are typically compensated by the following methods:
• Using bone-conductive technology to capture audio from the bones of skull or throat
• Integrating microphone and speaker within the face mask
• Providing large and tactile push-to-talk buttons
Some shipping customers have purchased radio equipment without the necessary audio accessories only to find out later that the firefighters on board could not use them in an emergency. This defeats the objective of the regulation and the essence of safety that it is trying to address.
Conclusion
The SOLAS regulation for firefighters has brought an important safety issue to the forefront: reliable communication is essential in dealing with emergencies.
Radio equipment manufacturers and specialist distributors of communication equipment have a responsibility to support and educate customers in compliance with this important regulation. One such effort was made on April 5, 2018 by IMarEST in Dubai.
Ali Irteza is Regional Managing Director at Entel.
The opinions expressed herein are the author's and not necessarily those of The Maritime Executive.