A festive day in Cuxhaven - from the opposite pier, in the gray of the morning, we can see the inviting lights on board the magnificent newbuild. MS Helgoland: Welcome to your new route! A newbuilding of a Helgoland ferry is an historical event: perhaps every 30 years, it's possible to experience something like this, if one is lucky. And as a bonus, this ship is powered by LNG.
Waving a grateful goodbye to Taucher O. Wulf 3 and her crew, who brought us over to the other side just in time for the start of the ceremony. Very professional!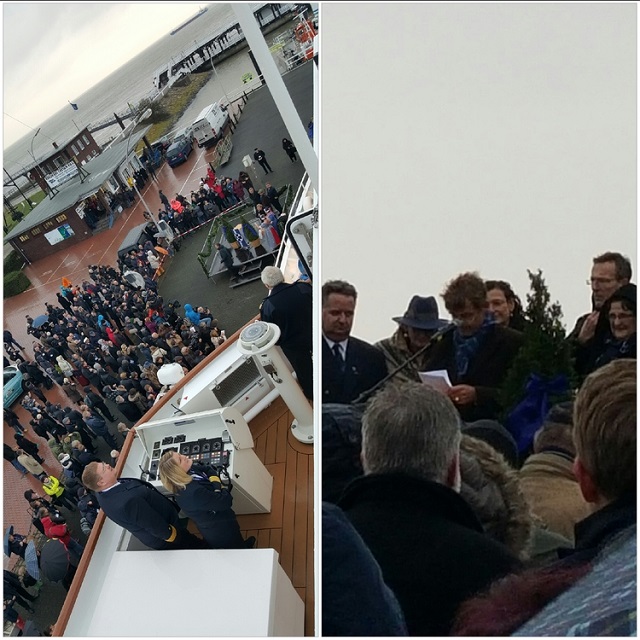 An excited crowd is assembled in front of the management of Cassen Eils ferry company. Dr. Gerhard Brons (speaking), Peter Eesmann (right) and Captain Ewald Bebber (left) stand on the podium. Likewise present is Christa Eils, widow of the deceased founder of the ferry company. At the left, Captain Jan Cerulius and his first officer standing in front of the outside bridge.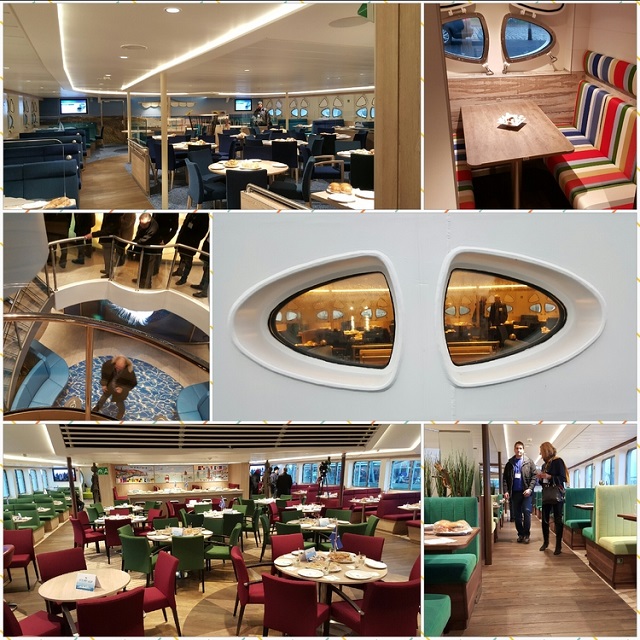 The stylish and colorful interior guarantees the disappearance all those depressed wintry feelings. Passengers are welcomed by red and green, the colors of the island of Helgoland. Delightful details like slightly oval portholes give the ship a certain je ne sais quoi.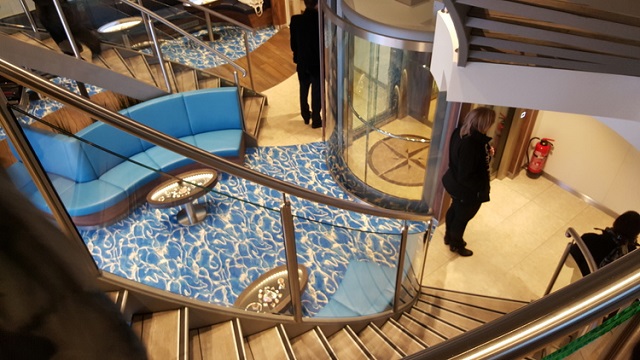 An airy atrium extends over the three main decks of the vessel.
Naturally, no maiden voyage is complete without a storm!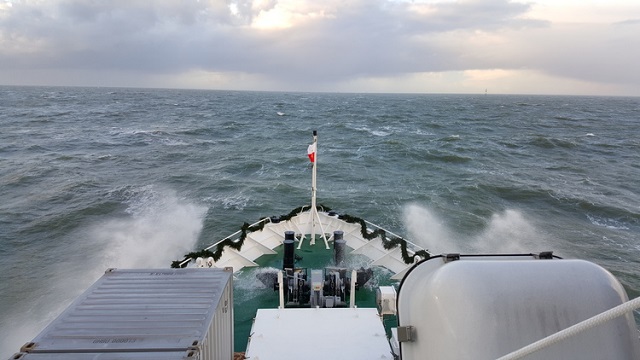 (In spite of the stabilizers, the Beaufort 8/9 winds could be distinctly felt. Also to be seen were up to ten containers, which can be transported by MS Helgoland during each journey to the island - some of which also have a power connection (= reefers). One doesn't notice when ensconced in the cozy interior, but MS Helgoland is a surreptitious freighter and, starting now, an important element in the year-round supply runs to the lonely high seas island.)
We are looking forward to many successful voyages with the MS Helgoland! And with a bit of finesse, perhaps we will also, with the new ferry's help, be able to bring over an LNG supplier from the United States to Cuxhaven - which would complete the ensemble.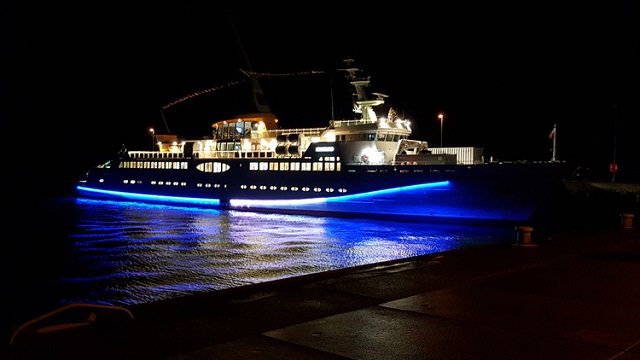 Techical Data
Overall length: 83m
Overall breadth: 12.80m
Draft: 3.6m
Speed (maximum): 20 knots
Classification by Germanic Lloyd:
100 A5 E RSA (50) PASSENGER SHIP EU + MC E AUT GF
Flag State: Germany
Powered by two dual fuel main engines and four lean gas auxiliary engines and two maneuvering thrusters with PTO/PTI.
The opinions expressed herein are the author's and not necessarily those of The Maritime Executive.
This entry has been created for information and planning purposes. It is not intended to be, nor should it be substituted for, legal advice, which turns on specific facts.