Yamal LNG Shipment Arrives in China via Arctic Route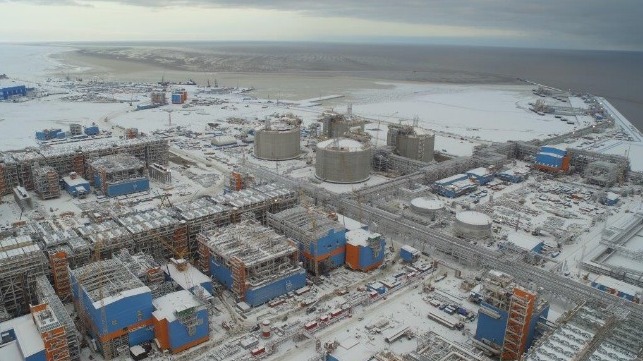 The icebreaking LNG carriers Eduard Toll and Vladimir Rusanov have arrived at an LNG terminal near Nantong, China, completing their landmark voyage from the Yamal LNG liquefaction plant via Russia's Northern Sea Route.
Rather than transit west, carrying LNG to Europe, the Toll and Rusanov left the Yamal Peninsula headed east, cutting weeks off the transit between the Kara Sea and the East China Sea. The total voyage time from the port of Sabetta through the Northern Sea Route to the destination port was completed in 19 days, compared to 35 days for the normal eastern route via the Suez Canal and the Strait of Malacca. To commemorate the vessel's arrival at Jiangsu Rudong, Novatek organized a ceremony attended by Russian energy minister Alexander Novak and Chinese National Energy Administration director Nur Bekri.
Novatek's chartered fleet of icebreaking LNG carriers is being built specifically for this journey. The firm began using the Northern Sea Route for Asia-bound shipments of petroleum in 2010, but this is the first time that it has sent an LNG carrier eastbound from Yamal. The voyage is not possible without an escort in wintertime, but the summer thaw allows an opening for the Arc7 ice-class vessels to make Asia-bound transits.
"This voyage begins a new era of Russian LNG shipments to meet the growing natural gas demands of the Asian-Pacific markets using the Northern Sea Route of the Arctic Ocean," said to Leonid Mikhelson, Novatek's chairman. "The Northern Sea Route ensures shorter transportation time and lower costs, which plays a key role in developing our hydrocarbon fields on the Yamal and Gydan peninsulas."
Mikhelson alluded to Novatek's plans to build a second LNG plant on the Gydan Peninsula, across the Gulf of Ob from Yamal LNG. The additional facility – called Arctic LNG-2 – would be completed by 2023, and would export gas from Novatek's Salmanovskoye and Geofizicheskoye fields, along with production from new license areas as the firm continues exploration. Mikhelson has claimed that the combined plants could produce 70 MTPA, enough to rival world leader Qatar.
Mikhelson also pointed to the broader national-development role of his firm's work. The frequent voyages of Novatek's icebreaking LNG carriers will open up opportunities for other Russian shipping to use the Northern Sea Route, paving the way for economic growth in Russia's far northern regions.