Yamal LNG Reaches Full Capacity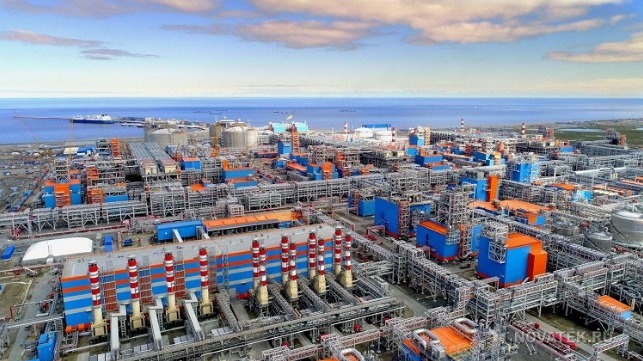 The Yamal LNG project reached full capacity on December 11, with the inauguration of the plant's third LNG train.
Yamal LNG is comprised of three liquefaction trains with a total nameplate capacity of 16.5 mmtpa, or 5.5 mmtpa per LNG train. The project is supported by a fleet of Arc7 ice-class tankers supplemented by lower ice-class designated tankers to transport LNG cargoes. More than 100 LNG cargoes have been offloaded with approximately 7.5 million tons of LNG produced and delivered to five continents – a year since the project's first shipment in December 2017.
One of the biggest LNG projects in the world, Yamal LNG is developing the 4.6 billion barrels of oil equivalent of reserves (boe) from the giant onshore South Tambey gas and condensate field, located on the Yamal Peninsula. It is currently the largest LNG project in Russia with an aggregate share of about five percent of the global LNG market.
The project includes an integrated gas treatment and liquefaction facility with three initial trains of 5.5 million tons per year capacity each, storage tanks, and port and airport infrastructure. An additional that small-scale 0.9 Mtpa train is under construction with a start-up planned early 2020.
Yamal LNG's production is sold under long-term contracts in Asian and European markets, predominantly under oil-indexed price formulas. LNG will be supplied to the markets all year round via the ice-class LNG carriers that will travel the Northern Sea Route to Asia through the Bering Strait in the summer.
The project is operated by the Yamal LNG Company, owned by Russian independent gas producer Novatek (50.1 percent), Total (20 percent), CNPC (20 percent) and Silk Road Fund (9.9 percent).
Leonid V. Mikhelson, Novatek's Chairman of the Management Board, said: "The Yamal LNG project enabled us to become one of the major players in the global LNG market. Our accomplishments pave the way to create a large-scale LNG platform utilizing the prolific conventional natural gas resources on the Yamal and Gydan peninsulas as well as facilitating the achievement of our strategic goal to produce 55 - 60 mmtpa by 2030."