World's Largest Sail Cruise Ship to be Launched by Orient Express
French hospitality company Accor Group is the latest hotel company to announce plans to enter the cruise business. Accor signed a letter of intent with Chanteirs de l'Atlantique for the construction of two of the world's largest sailing ships which it intends to use as cruise ships for its Orient Express luxury brand.
The shipyard expects the order for the ships, which will be bank financed along with an investor syndicate, will be signed within a few weeks. Accor will hold a minority stake in the project.
The concept is for a luxury hybrid powered cruise ship combining the shipyard's SolidSail concept along with a dual-fuel engine that will run on liquified natural gas and be capable of converting to green hydrogen in the future. The sails in the right conditions will be able to propel the ship while according to the company, they will overall "contribute significantly to the hybrid propulsion of the ship."
The cruise ships will be 22,300 tons with an overall length of 721 feet. Chantiers de l'Atlantique has been developing the sail propulsion system and sailing ship concept which they first introduced in 2018. The system will consist of three rigid sails made of a glass-polyester composite that hang from masts each standing more than 328 feet. The sails fold when not in use and are unfurled without the use of spars. Each of the sails is 1,500 square meters (16,000 square feet) with a total of 4,500 square meters of sail area planned for the ships.
A unique part of the sail system is the balestron rig on which the masts are mounting. It can rotate 360 degrees and can tilt up to 70 degrees to create clearance for the vessel when the sails are not in use. The Neoliner concept for a wind-powered Ro-Ro also incorporates Chantiers' SolidSail design.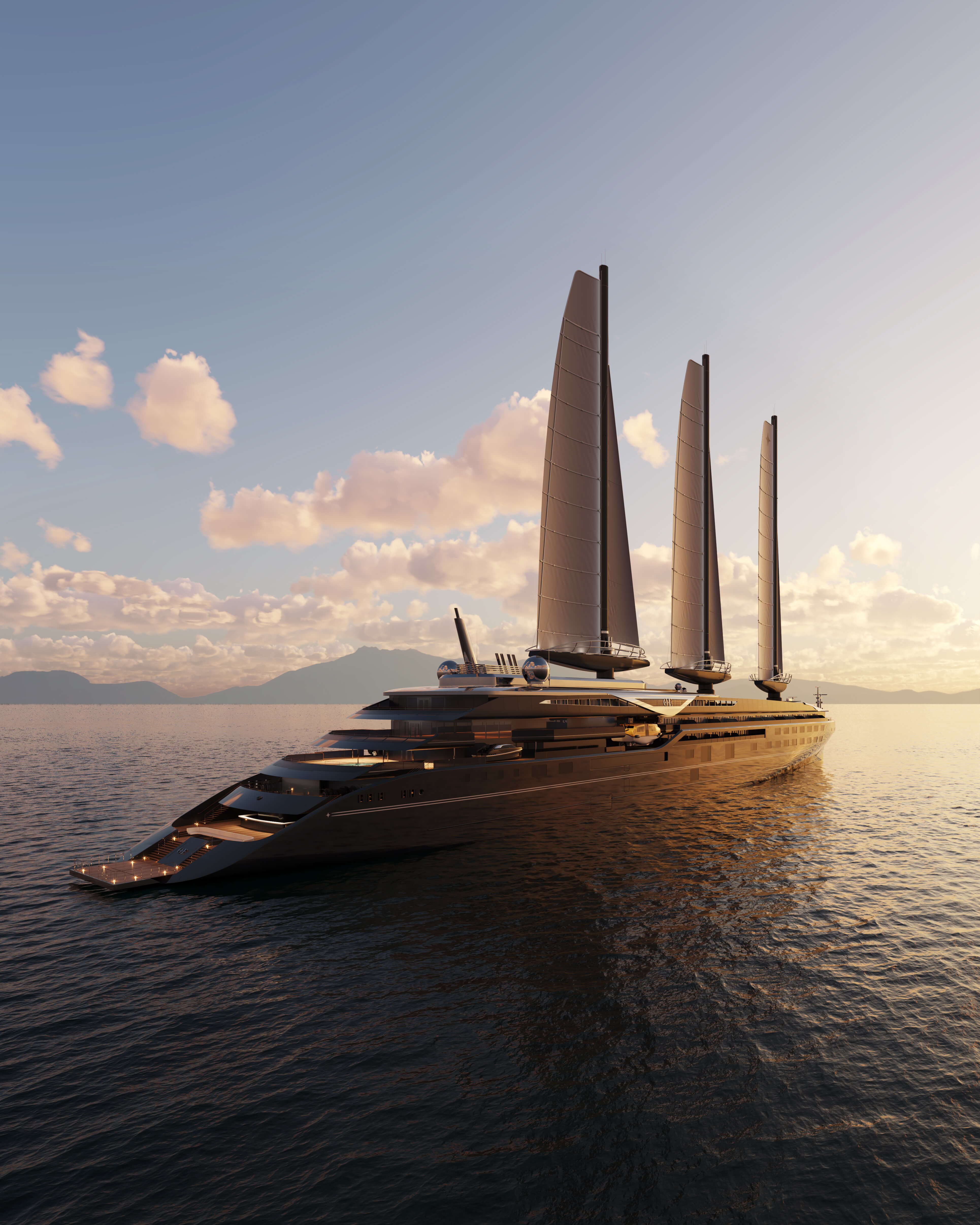 Accor plans two sail cruise ships to be marketed by Orient Express (rendering by Maxime d'Angeac & Martin Darzacq for Orient Express, Accor)
"This exceptional sailing yacht, with roots in Orient Express' history, will offer unparalleled service and refined design spaces, reminiscent of the golden age of mythical cruises," said Sébastien Bazin, Chairman and CEO of Accor. "Innovation is at the heart of this ultra-modern ship that will revolutionize the maritime world with new technology to meet today's sustainability challenges. It is a boat designed to make dreams a reality, a showcase for the best of French savoir-faire."
The first cruise ship, named Orient Express Silenseas, would be delivered in March 2026, and the second ship on September 1, 2027. Each of the ships will feature 54 suites ranging from 750 square feet to a Presidential Suite measuring over 15,000 square feet including a 5,000 square foot private terrace. Passenger amenities will include both a swimming pool and a lap pool, a spa, two restaurants, a bar, a theater, and a recording studio.
The interior design for the vessel will be developed by architect Maxime D'Angeac, while Nantes-based design company Stirling Design International is in charge of the ship's exterior architecture. Hetland Maritime of Paris is working with Accor on the creation of the project and the discussions with Chantiers de l'Atlantique.
Accor, which manages a network of over 5,300 hotels in 110 countries is looking to leverage the brand recognition of Orient Express, best known for its luxury trains and hotels, into the cruise industry. In doing so, they join Ritz Carlton which licenses its brand name for luxury yacht cruising, and Four Seasons which recently announced an order with Fincantieri to build a luxury cruise ship.