Worker Seriously Injured in Accident at Irving Shipyard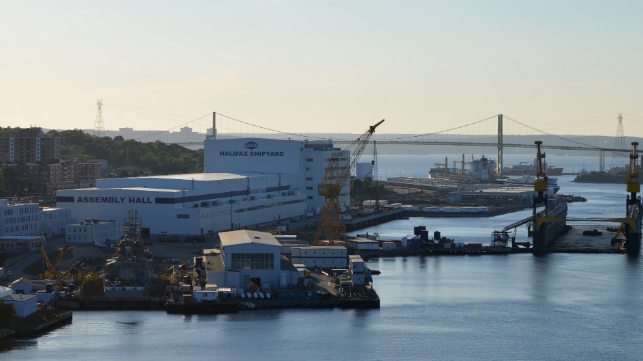 A worker at Irving Shipyard has been hospitalized with serious injuries after an industrial accident on Tuesday evening.
At about 1845 hours Tuesday, the victim was struck by a piece of metal while working on equipment and suffered a fall, Halifax police said. He sustained "life-threatening" injuries and was hospitalized.
Irving said in the statement that the worker was a contractor, and that he was injured while "servicing a piece of the contractor's equipment."
The Nova Scotia Department of Labour has issued a stop-work order for the affected equipment and work area, but the rest of the yard remains operational. The department, Halifax police and Irving Shipbuilding have all launched investigations into the accident.
In a statement, shipyard union Unifor expressed solidarity with the victim, who is not a union member. "Unifor extends heartfelt support and solidarity to family, friends and co-workers of an Irving Shipbuilding worker who was seriously injured at the shipyard on July 2. The union will be closely following the ongoing investigation into the industrial accident," Unifor said.
The union has launched a GoFundMe campaign to raise support for the victim, and it has raised about $4,500 as of Wednesday evening. The campaign's site asserts that the man sustained injuries when "a highly pressurized cover [hit] his head from a sandblasting unit," then fell several feet to the ground.