With Brexit Coming, Dover MP Calls for Efficient Customs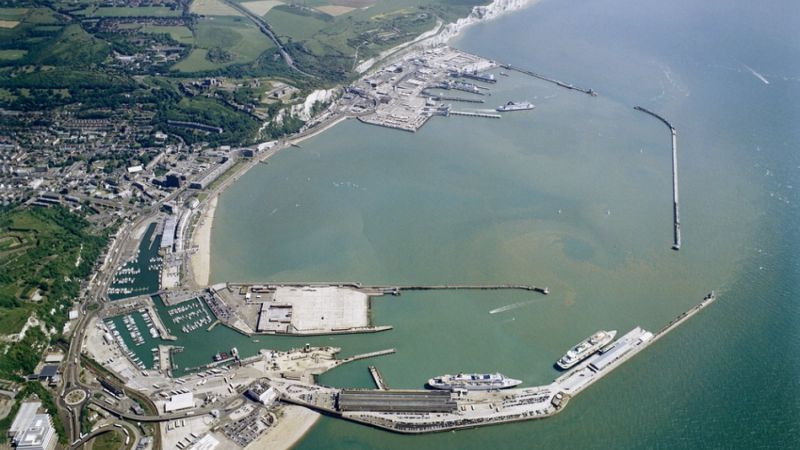 Passenger/freight ro/ros are a core part of commerce between continental Europe and the UK, and over 10,000 trucks pass through Dover Port every day on their way to or from Britain. Dover is a busy cruise ship and passenger port, tied for busiest in the world with Helsinki, Finland at about 12 million passengers per year – but British politicians and economic analysts warn that its freight traffic could be significantly disrupted if Britain's transition out of the EU is not handled properly.
Consultancy Oxera recently reported that imposing customs checks on EU cargo could cost the UK economy $1.3 billion per year – an "extremely conservative" figure, according to partner Andrew Meaney. While the cruise business might not be affected, a disorderly "Brexit" and a new customs regime for EU shipments could spell "armageddon" for traffic at Dover and other Channel ports, according to Dover MP Charlie Elphike.
Elphike, the MP for Dover and Deal, recently outlined concrete steps that the UK government could take to facilitate a smooth transition: a unified "one government" border presence rather than multiple agencies; better road infrastructure leading to Channel ports; a well-prepared plan for customs procedures and technology; and a new infrastructure bill to reduce administrative barriers to construction projects.
Elphike's "one government at the border" proposal will be familiar in the United States, where U.S. Customs and Border Protection has provided "one face at the border" since its consolidation in 2003. At present, similar customs functions in Britain are handled by three separate ministries.
Elphike echoed widespread concerns that HM Revenue & Customs may not be able to field its new electronic Customs Declaration Service before Brexit takes effect. CDS is scheduled to go live in January 2019, just two months before the UK will leave the EU. The existing system can only handle 100 million declarations per year, and analysts estimate that if customs checks are imposed on EU cargo, that number would rise to 300 million per year. Whether or not Britain can negotiate a way to stay within the customs union, Elphike argues, it has to be ready to avoid disruptions.
For its part, Dover is carrying on with business and with infrastructure initiatives – notably its Dover Western Docks Revival, an EU co-financed project to create a new cargo terminal and distribution center, along with a marina, a shopping district and public space. VolkerStevin and Boskalis Westminster hold the contract for construction, and time lapse imagery from the first half of the year shows steady progress (below).