WinGD and CBM.Tech Partner for First Ammonia-Fueled Bulkers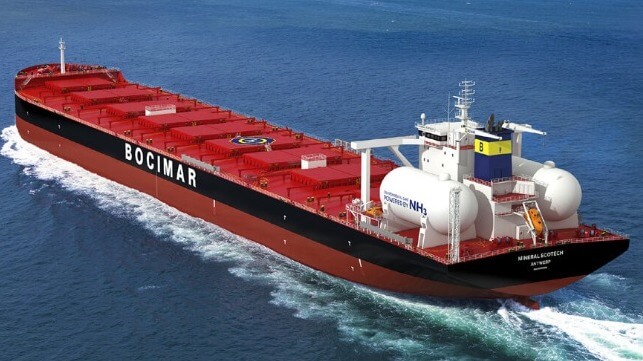 A project is launching to develop large ammonia-fueled engines that would represent a significant step forward in the efforts to bring about ammonia as an alternative zero-emission fuel for the maritime sector. Engine manufacturer WinGD, owned by China's CSSC Group, is partnering with Belgian shipping and cleantech group CMB.Tech with a goal of having the engine available for installation on vessels by 2025.
"This project is a significant step in accelerating our ammonia technology roadmap for a zero-carbon future," said Klaus Heim, CEO of WinGD. "Having CMB.Tech's input into the engine development will be invaluable given their alternative fuel expertise and their ship operator's perspective on how an engine concept is implemented and ultimately operated. The project is an opportunity to widen the roll-out of ammonia technology across our portfolio, in line with our previously stated timeframe of introducing the first engine concept in 2025."
Under this joint development project, CMB.Tech will support WinGD in establishing its ammonia-fueled engine concept for a large-bore engine. The newest engines in WinGD's X-DF portfolio will add ammonia capability to the proven technology of WinGD's X engines. They will be based on the X92B engine, whose market-leading fuel efficiency the company said makes it an ideal starting point for developing large-bore ammonia-fueled engines.
The companies aim to install the ammonia dual-fuel X72DF engine on a series of ten 210,000 dwt bulk carriers to be built at a Chinese shipyard in 2025 and 2026. The vessel would be built and operated by Bocimar, a division of Compagnie Maritime Belge providing worldwide transportation of dry goods. The company reports it has a fleet of 48 dry bulk vessels ranging across all the major size categories for the sector.
CMB.Tech the companies highlighted has significant insight into alternative fuels. They are one of the leaders involved in the adoption of hydrogen as an alternative fuel for the maritime industry. In 2021, they were involved both in the introduction of the first hydrogen-fueled crew transfer vessel operated by the CBM company Windcat as well as partnering with Japan's Tsuneishi Group for the introduction in August 2021 of HydroBingo, an 80-passenger commercial ferry equipped with two hydrogen diesel combustion engines. The series of large bulk carriers powered by WinGD's ammonia engines will be the first of its kind and are seen as a key next step by Alexander Saverys who heads CMB.Tech, the family's technology pioneer firm that seeks to lead the development of alternative fuels.