White House Formalizes Naval Ship Repair Deal With India's L&T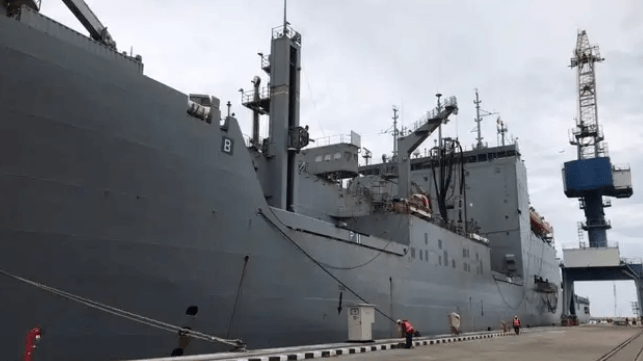 As part of a broader effort to strengthen defense ties with India, the U.S. government has signed a formal framework agreement on naval ship repair with Larsen & Toubro, the Indian defense shipbuilder. The agreement was timed to coincide with the visit of Indian Prime Minister Narendra Modi to the White House last week.
L&T operates a modern shipyard at Kattupalli, India, located north of Chennai on India's Bay of Bengal coastline. It has produced more than 65 naval and coast guard vessels in its 10 years in operation.
The signing of a Master Ship Repair Agreement (MSRA) with Larsen & Toubro formalizes an existing arrangement between the U.S. Navy and the Indian yard. Three U.S. Navy vessels have passed through the L&T shipyard since August 2022, and the MSRA opens up new opportunities for further repair stopovers, particularly for naval auxiliaries from Military Sealift Command.
Similar agreements are pending for work on U.S. naval vessels at Mazagon Dock Limited and Goa Shipyard. The ultimate goal is to "make India a logistics hub for US and other partners in the Indo-Pacific region," a defense official told Naval Technology. The favorable location and affordable price schedule offer "cost-effective and time-saving sustainment activities for U.S. military operations across multiple theaters," the White House said Thursday.
In addition to the ship repair announcement, the White House also noted an agreement between General Electric and Hindustan Aeronautics to build GE F-414 jet engines in India, for use in the HAL Tejas Mark 2 lightweight fighter. This technology transfer is the most significant yet for U.S. jet engine technology, according to the Biden administration. The administration also announced the launch of a new U.S.-India Defense Acceleration Ecosystem (INDUS-X). This new network of universities, startups, industry and think tanks will work on defense technology and co-production between the two nations.
The Biden administration is reportedly considering a similar naval ship repair agreement with commercial yards in Japan, a close ally with a sophisticated shipbuilding industry. According to Nikkei Asia, U.S. Ambassador to Japan Rahm Emanuel is also promoting potential repair partnerships with yards in the Philippines, South Korea and Singapore.