White House Dispatches Carrier USS Ford to Show Support for Israel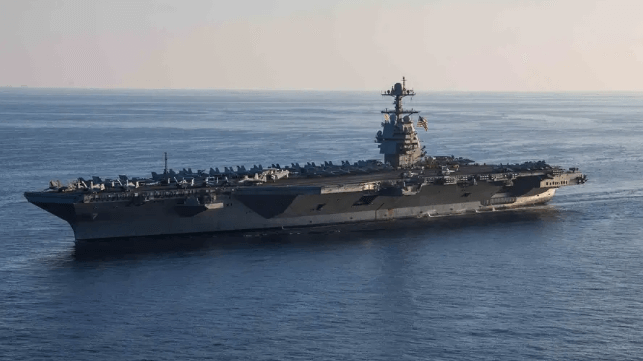 The White House has diverted the carrier USS Gerald R. Ford to the Eastern Mediterranean in a show of support for the Israeli counterattack on militant group Hamas.
USS Ford is on her first full overseas deployment, and she carries an air wing of F/A-18 Super Hornet strike fighters. She is accompanied by the cruiser USS Normandy, along with the destroyers USS Thomas Hudner, USS Ramage, USS Carney and USS Roosevelt.
The Defense Department is also relocating Air Force assets to the region, including A-10, F-16, F-15 and F-35 aircraft squadrons.
"Strengthening our joint force posture, in addition to the materiel support that we will rapidly provide to Israel, underscores the United States' ironclad support for the Israel Defense Forces and the Israeli people," said Secretary of Defense Lloyd Austin in a statement.
The move follows Israeli President Benjamin Netanyahu's announcement that Israel has declared war on Hamas, the U.S.-designated terrorist group that serves as the leading political party in Gaza. Hamas has a long history of targeting civilians, and on Saturday, it launched a surprise attack against multiple Israeli towns as far as 15 miles from Gaza's borders. Backed by rocket salvos, Hamas fighters attacked Israeli soldiers, opened fire on civilians and took as many as 100 hostages.
According to Israeli rescue agencies, over 700 people were killed and 2,200 wounded in the initial attack. A lesser number were killed and wounded in Gaza during initial Israeli counterstrikes, the Palestinian health ministry claimed.
The Israeli Navy said that one of its patrol ships "thwarted" dozens of Hamas fighters who were attempting to infiltrate into Israel's territory by sea in the early hours of Saturday morning. On Sunday, it also reported that it had captured the deputy commander of Hamas' seaborne operations, Muhammad Abu Ghali.
A full-scale response is under way, and the Israeli Defense Forces has already delivered about 100 tons of munitions onto the Shuja'iyya neighborhood, a Hamas stronghold east of the city center. Other early targets included the Hamas-owned National Islamic Bank.
The open warfare follows months of increasing tension between Palestinians and Israeli settlers in the West Bank, including violent confrontations and fatalities on both sides.