Washington State Ferry Runs Aground Near Bremerton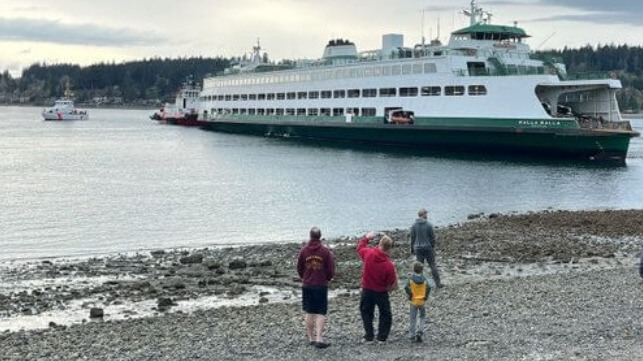 On Saturday afternoon, a Washington State ferry ran aground south of Bainbridge Island, just across Puget Sound from Seattle. Nearly 600 passengers were aboard the vessel, and safe disembarkation took more than five hours.
At about 1630 hours Saturday, the ferry Walla Walla went aground in Rich Passage, a narrow and curving waterway on the route from Seattle to Bremerton. No injuries or flooding were reported.
Passengers told local media that the lights flickered and that the ship appeared to lose propulsion before the grounding. The crew alerted everyone on board to the impending casualty and began to prepare them for an emergency scenario.
"They made [an] announcement saying everyone needs to come to the passenger deck, we've lost steering [and propulsion] everyone needs to brace for impact, and so we were all sitting down and a little concerned," passenger Matt Holyoak told KOMO News after the casualty.
The smaller ferries Waterman and Commander, provided by Kitsap Transit, diverted to the scene and were able to pull alongside the Walla Walla so that passengers could transfer directly aboard. The last passengers disembarked at about 2200 hours, and they were all delivered safely to Bremerton.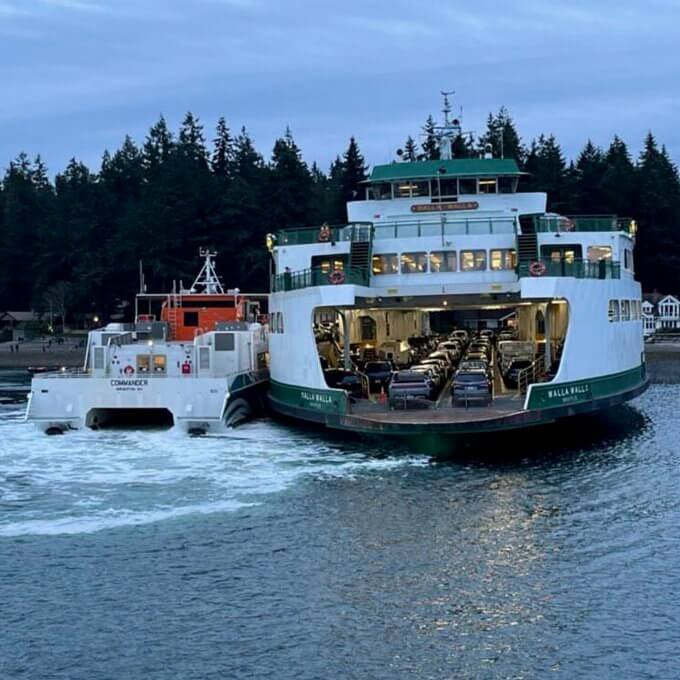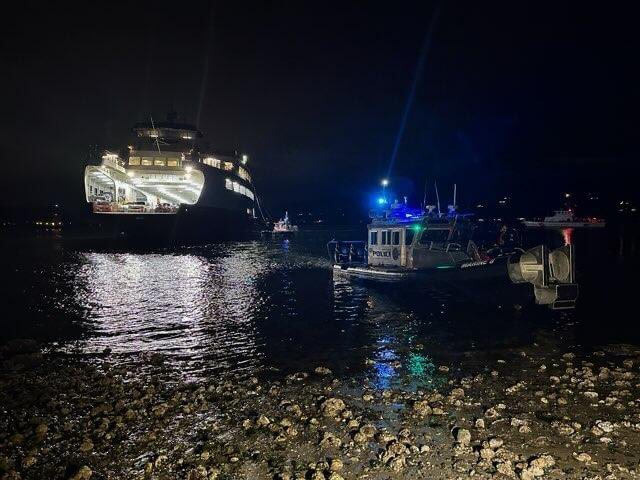 Images courtesy USCG
The Walla Walla was safely refloated at high tide on Saturday night with tug assistance, and she was delivered to Bremerton without further incident. Passengers with cars aboard the Walla Walla were able to retrieve their vehicles at the pier in Bremerton on Sunday morning.
Initial indications suggest that the Walla Walla sustained a generator failure while under way, according to Washington State Ferries. An official investigation into the cause of the casualty is under way. The ferry Issaquah is taking over Walla Walla's route temporarily while the refloated ferry undergoes survey and repair.
Walla Walla is a Jumbo-class WSF ferry built in 1973 and refurbished in 2005. She has a diesel-electric propulsion system, powered by four independent diesel generators.
The ferry has been aground once before: in 1981, Walla Walla ran onto a beach at Wing Point, Bainbridge Island, about three miles northeast of Saturday's grounding.
The last major propulsion casualty affecting a WSF ferry occurred in 2014, when the ferry Tacoma suffered a catastrophic electrical system failure at Bainbridge's Eagle Harbor. The Tacoma was able to drop anchor and avert a grounding.