Explosions shook the suburbs of the Yemeni port city of Aden on Monday as residents reported a foreign warship shelling Houthi positions on the outskirts of the city.
Street fighting and heavy shelling has for several days torn through the city, the last bastion of support for Saudi-backed president Abd-Rabbu Mansour Hadi.
The air and sea campaign has targeted Houthi convoys, missiles and weapons stores and cut off any possible outside reinforcements.
Twelve days of bombing by a Saudi-led coalition has failed to halt the advance of the Iran-allied Houthis.
No Relief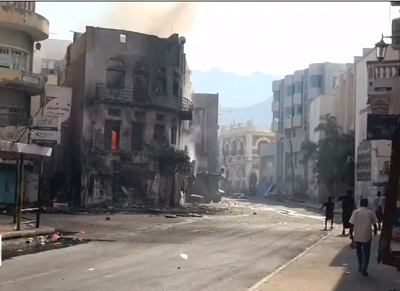 The United Nations said on Thursday that more than 500 people had been killed in two weeks of fighting in Yemen, while the International Committee of the Red Cross has appealed for an immediate 24-hour pause in fighting to allow aid into Yemen.
Relief from outside appeared distant as the International Committee of the Red Cross told Reuters that it had yet to arrange a flight to deliver 48 tons of medical supplies despite gaining Saudi approval for the aid on Saturday night.
Food, water and electricity shortages have mounted throughout the country but especially in Aden, where combat has shut ports and cut land routes linking the city to the outside.
The International Committee of the Red Cross, which for days blamed the Saudi-led coalition for delays, told Reuters on Monday that Saudi Arabia had granted permission for an aid shipment before midnight on Saturday, but problems in chartering planes would likely delay the aid's arrival to the Yemeni capital for at least a day.
Opting to Stay
France said its navy evacuated 63 people including French nationals from Aden on Sunday. Turkey said it evacuated 230 people, including non-Turkish citizens, by plane from Sanaa.
Arirang news reports that for the first time ever, a Korean diplomatic mission has been set up on a warship at sea. According to the Joint Chiefs of Staff on Sunday, the interim mission was opened on the Navy destroyer Wang Geon operating on waters off the Gulf of Aden to support 23 remaining Korean residents who opted to stay in the country following Seoul's recent evacuation of its people.
Thirteen Koreans, including two embassy employees, have been evacuated from Yemen so far. The Wang Geon destroyer has been a part of international efforts to protect ships passing through the Gulf of Aden from pirates since early 2009.