Wärtsilä Introduces First Commercial 4-Stroke Ammonia Dual-Fuel Engine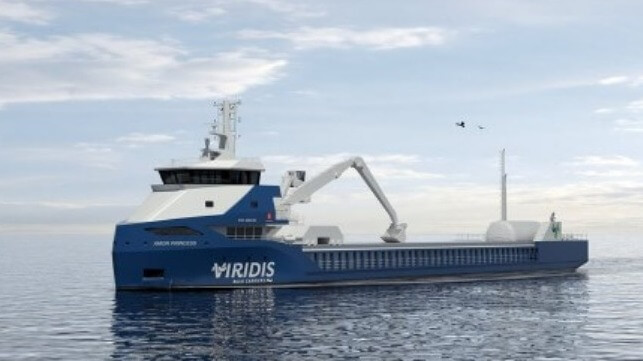 Wärtsilä has made a significant breakthrough in enabling sustainable shipping operations with the company's first commercially available 4-stroke ammonia-fueled engine-based solution. Based on the Wärtsilä 25 engine platform they report that they are targeting the first contract for the engine by the beginning of 2024.
"The ammonia solution is based on Wärtsilä's well-proven LNG system, from which we have gained invaluable experience," said Roger Holm, President of Wärtsilä's Marine Power business. "The Wärtsilä 25 engine has been designed for easy adoption of sustainable fuels and, now, in addition to its previous capability of operating on diesel, LNG, or on gas or liquid carbon-neutral biofuels, we are proud to add ammonia to its specifications."
Introduced in September 2022, the Wärtsilä 25 is a medium-speed, modular 4-stroke marine engine. The company highlighted its upgradeable modular structure and high-power output per cylinder. The engine design was optimized to run at both constant and variable speeds and is available in diesel, dual-fuel LNG, and now in dual-fuel ammonia.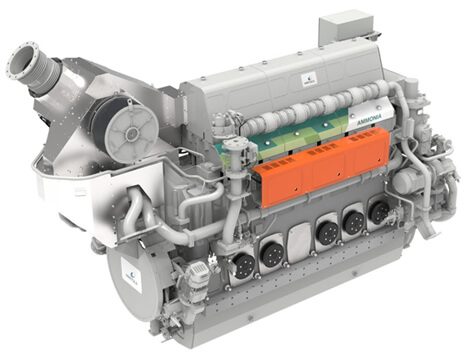 Wärtsilä reports the ammonia dual-fuel engine-based solution is now commercially available
In addition to the engine, the full solution being made available includes an AmmoniaPac fuel gas supply system, the Wärtsilä Ammonia Release Mitigation System (WARMS), and the Wärtsilä NOx Reducer (NOR) for optimal exhaust after-treatment. They highlight that safety and efficiency are central to the solution design which also includes an automation system to maximize the results. This new Wärtsilä 25 Ammonia solution can immediately reduce greenhouse gas emissions by more than 70 percent, compared to a similar-sized diesel solution, meeting current EU targets until 2050, and exceeding the IMO target for 2040.
Viridis Bulk Carriers is intended to be the first shipowner to use the new ammonia solution. Viridis, a partnership between Amon Maritime, Mosvolds Rederi, and Navigare Logistics, has been working for the past few years to develop short-sea vessels that will operate on ammonia in the North Sea. In September, the group was awarded a grant from the Norwegian government through its Enova initiative to help finance the construction of two ammonia-powered bulk carriers which it hopes to put in service in 2025. Earlier this month, Wärtsilä and Viridis Bulk Carriers signed a Letter of Intent for the Wärtsilä 25 ammonia engine solution, targeting a commercial contract signing in early 2024.
Wärtsilä reports it began the world's first full-scale ammonia engine test in 2020 and has been steadily advancing the efforts. Their Ammonia Release Mitigation Systems (WARMS) received Approval in Principle from the classification society DNV in June 2023 as another key element in the solution.
"This is only the beginning," says Stefan Nysjö, Vice President of Power Supply at Wärtsilä Marine Power. "The Wärtsilä 25 is the first Wärtsilä engine to run on ammonia as a fuel, and this is an important milestone, but we will not stop here. While we are planning for additional ammonia engines in our portfolio over time, we are also committed to continuing development and testing of technologies and solutions that can continue to support the industry with reducing greenhouse gas emissions even further in the future."