Video: USCG Tracking Russian Spy Ship Sailing Near Hawaii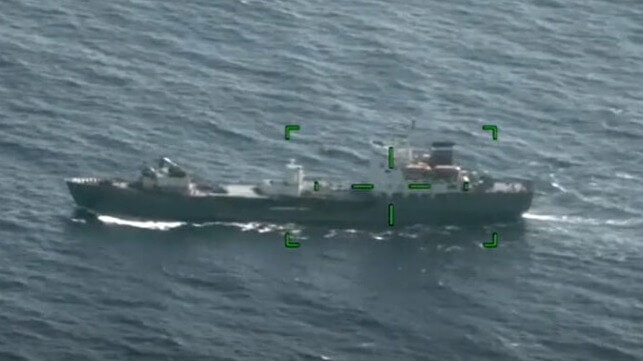 A Russian ship that has been sailing in international waters off the coast of the Hawaiian Islands for weeks has attracted the attention of U.S. authorities over suspicions that it is engaging in intelligence gathering.
The U.S. Coast Guard reports that in recent weeks it has been monitoring an unidentified Russian vessel that has been seen in international waters beyond Hawaii. Although the USCG released a video of the ship, it did not provide details of how long the vessel has been in the area. The video showed the latitude and longitude coordinates of the vessel which indicated the ship was about 100 miles from Honolulu.
"The U.S. Coast Guard is currently monitoring the Russian vessel operating in the vicinity of Hawaii. As part of our daily operations, we track all vessels in the Pacific area through surface and air assets and joint agency capabilities," said Cmdr. Dave Milne, chief of External Affairs.
He added that the Coast Guard operates in accordance with international laws of the sea to ensure all nations can do the same without fear or contest, something that is especially critical to secure freedom of movement and navigation throughout the Blue Pacific.
The USCG says that while foreign military ships may transit freely through the U.S. economic exclusive zone (EEZ) in accordance with customary international laws, foreign-flagged military vessels have often been observed operating and loitering within the Coast Guard District Fourteen's area of response around Hawaii.
While the Russian vessel is exercising freedom of navigation, the USCG continues to coordinate with the Department of Defense in providing updates to foreign vessel movements and activities and to ensure that it remains within international maritime norms. President Biden in the spring of 2022 closed all American ports to commercial Russian vessels after the attack on Ukraine.
This incident is not the first recent spotting of Russian vessels operating near the United States. U.S. Indo-Pacific Command previously reported in May last year that it was monitoring a Russian ship near Hawaii and in 2019 a Russian vessel was tracked off the southeastern coast near South Carolina. A Russian naval vessel also transited near Alaska in September 2022.