Video: Ukraine Strikes Another Two Russian Navy Vessels in Sevastopol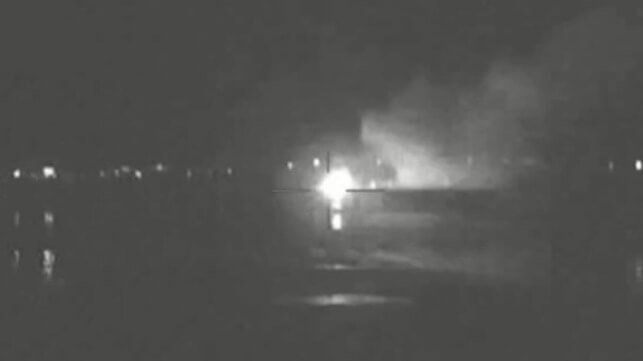 Last week, the Ukrainian Navy hit and sank two small landing ships using explosives-laden drone boats, which have played a major role in its campaign against Russia's Black Sea Fleet.
In a night operation, Ukrainian operators targeted a pair of landing craft at the port of Sevastopol, the epicenter of Ukrainian efforts to hobble the Russian Navy.
One of the vessels was described as a Project 11770 Serna-class. These 85-foot landing vessels can carry one main battle tank, two armored vehicles or 90 troops at a time. The second was an older Project 1176 Akula-class landing boat, an 80-foot vessel capable of carrying one T-72 tank.
An infrared first-person video released by Ukrainian forces showed a drone boat closing in on a gray hull in the darkness. A second, following behind, captured the flames after an apparent explosion.
Ukrainian forces claimed that the boats were used as mobile launch pads for a Tor M2 short range surface to air missile system, augmenting the stretched capacity of the air defense network around Sevastopol. Ukraine has prioritized the destruction of air defenses around Sevastopol in order to maximize the impact of cruise missile strikes, which it has used to attack the Russian Navy's vessels and infrastructure.
The Ukrainian military also noted that Russia has used its small landing craft to transport special forces groups, as it did during the campaign for control of Snake Island last year. Russia was eventually forced to abandon that position due to heavy Ukrainian bombardment.
Ukraine's military intelligence agency, GUR, reported that the two landing boats sank after the attack (satellite image above).
Since Ukraine no longer has a seagoing surface navy, this part of the conflict leans heavily on technology, enabled by donations from volunteers. Ukraine has modified the design of its bomb boats repeatedly based on its learned experience, and Russia has adapted by hardening its port and waterway defenses. Layers of anti-drone barriers have become a common sight at the harbors of Sevastopol and Novorossiysk.
"The enemy also learns very quickly, and he also makes his own conclusions, counteracting our actions. The war at sea can only be won with new solutions that must be implemented as quickly as possible," Vice Adm. Oleksiy Neizhpapa, commander of Ukraine's Navy, told the New York Times.