Video: UK-Flagged Bulker Hits Reef Transiting Indonesia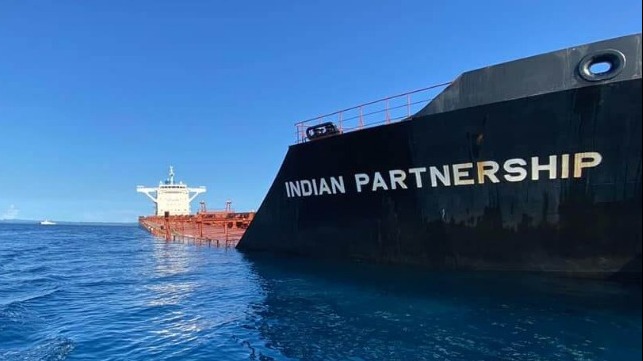 A UK-flagged bulker became the focus of social media speculation after several Indonesians began posting about a vessel apparently sinking and in distress west of New Guinea. The Indonesian Navy has now confirmed the speculation reporting the Indian Partnership (181,000 dwt) has suffered damage in one of the sea lanes passing through its country.
London-based ship manager Zodiac Maritime confirms that the bulker which it manages hit was is believed to be an uncharted reef in an area the Indonesians call the Seram Sea while traveling in the Indonesian Archipelagic Sea Lanes. The vessel is reported to be about four miles from Openta Island on the western side of the sea lane. Some reports are saying she is anchored while others suggest she was purposely grounded in shallow waters.
The nine-year-old vessel had loaded a cargo of Bauxite in northern Australia departing from the Skardon River anchorage on April 17 bound for China. Her managers are saying she hit the reef on April 22 and breached one of her ballast tanks. The vessel, which is 958 feet in length, was taking on water settling into the ocean.
The Indonesian Navy said it was told by the captain that the vessel did not feel anything to indicate it had hit a reef and the first indication came when the vessel began to settle into the water. They diverted to their position and reportedly asked for permission to anchor and send down divers to determine the level of damage.
Photos released by the Indonesian Navy show the ship listing to starboard and down ad the head with the deck near sea level. Navy commanders report doing a visual survey when they reached the vessel today.
The bulker is reported in a stable condition with the local police and the Navy continuing to monitor its situation. The vessel has a crew of 22 aboard.