Video: Tropical Storm Sinks Freighter Off Hong Kong
[Brief] Hong Kong has seen more than its fair share of storms over the course of the past week: last Wednesday, Typhoon Hato arrived at the busy port, toppling stacks of containers, sinking or capsizing ten vessels and forcing Hong Kong SAR aircrews to evacuate nearly 40 seafarers from ships in distress. On Sunday, Tropical Storm Pakhar arrived, bringing yet more wind and rain.
T8 Tropical Storm Pakhar sweeps through Hong Kong harbour on Sunday morning #Pakhar #HongKong pic.twitter.com/ZYsszUM6gj

— David Thompson (@DT58EFC) August 26, 2017
Heavy weather from Pakhar also led to the sinking of the freighter Hong-Tai 176 at a location about 65 nm east of the city. Hong Kong's Government Flying Service received a distress call on Sunday morning at 0700 and dispatched a fixed-wing aircraft to locate the vessel, and the aircrew found it at around 0840 hours.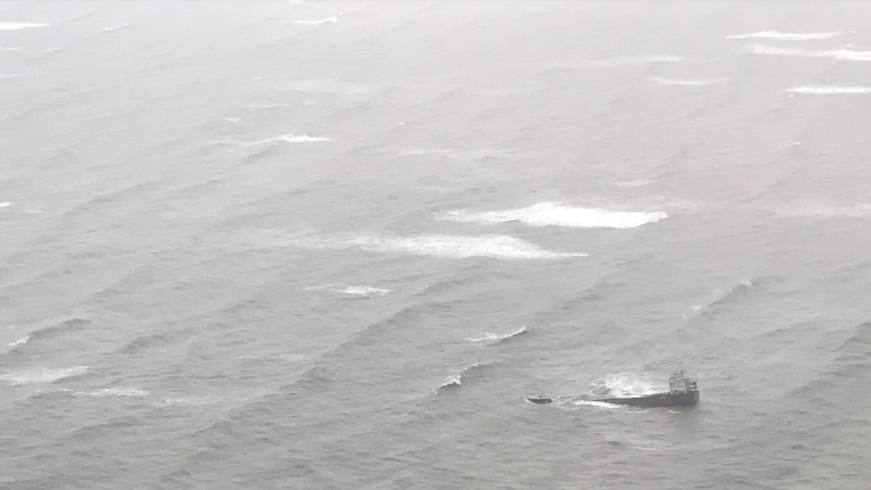 Handout image courtesy GFS
A rescue helicopter deployed from Hong Kong and arrived at 0920. Despite poor visibility, it located the vessel and safely evacuated the crew. The evolution was complete by 1000 hours, and the Hong Tai went under shortly thereafter.