Video: Shipyard Dock and Crane Collapse Hitting Bulker
[Brief] Video is circulating online showing a shipyard accident in which a floating dock tilted. The images show one of the cranes from the dock hitting a bulker and reports indicate that there was some damage to the vessel but no injuries or casualties.
Turkish media is widely reporting the accident at the C?ndemir Shipyard, a privately owned facility in Tuzla, east of Istanbul. The shipyard reports on its website adding a floating dock with a lifting capacity of 3,000 tonnes to its facilities in 1999. They further expanded by renewing the floating dock in 2007 and increased its docking capacity to 5,000 tonnes.
Media reports and the videos do not indicate why the dock tilted and sunk. It appears to have collapsed with the two sides coming toward each other. The dock appears to have had at least two cranes both of which collapsed.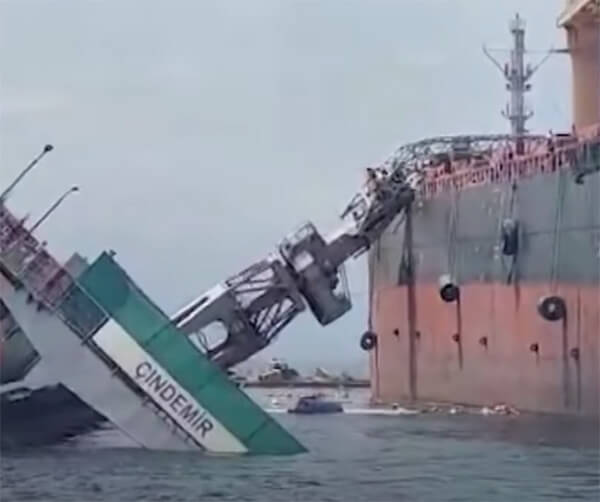 One of the two cranes toppled over onto the bulker Osprey S. which appears to have been anchored alongside. The 30,570 dwt bulker, which is registered in Liberia, drew attention in August 2022 as one of the first vessels cleared to proceed to Ukraine under the Black Sea grain export deal. The vessel's AIS signal appears to show it has been at the shipyard since last October with the media reports saying it is being refurbished.
One crane came to rest on the side of the vessel after the dock collapsed and then breaks away hitting the hull of the vessel. The other crane closer to the ship collapses away from the ship toward the other wall of the dock.
It is unclear how much damage was caused by the crane hitting the bulker. Later pictures appear to show the ship repositioned to be alongside the berth. Reports indicate that the shipyard did not request assistance from Turkey's General Directorate of Coastal Shipping.