Video: Russian Suicide Drone Boat Strikes Ukrainian Bridge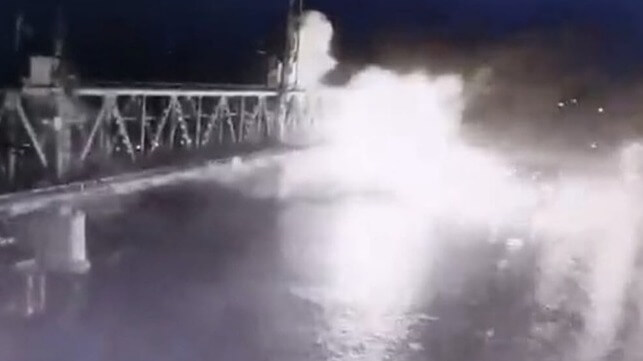 Russian forces appear to have used an unmanned surface vessel (USV) to attack a strategic bridge between Ukraine and Moldova, according to social media reports and defense analysts. It represents the first known Russian use of a USV in combat, though not the first use in the Black Sea.
The Zatoka road and rail bridge connects the Ukrainian port of Odessa with Moldova. It is the only road and rail link between the two nations. The bridge was hit previously by a Russian cruise missile strike in 2022, and photos from the missile attack have circulated again on social media, purporting to show the aftermath of Friday's drone strike. The extent of any damage from the drone boat attack was not immediately clear.
The use of enemy under water drones. This footage is reportedly from Zatoka bridge in the Odesa region where Russian forces targeted the bridge pic.twitter.com/zFCLwHDEsB

— NOËL ???????? ???????? (@NOELreports) February 10, 2023
Ukraine's top military officer, Gen. Valery Zaluzhny, appeared to confirm the attack in a statement on Saturday. In a readout of a recent telephone call with U.S. Chairman of the Joint Chiefs of Staff Gen. Mark Milley, Gen. Zaluzhny noted his concern over "Russia's use of maritime surface drones, which pose a threat to civilian shipping in the Black Sea."
In October, Ukraine used unmanned surface vessels armed with explosive warheads to attack the Russian Black Sea Fleet. The strike may have resulted in a successful hit on the frigate Admiral Makarov, the current flagship of the Black Sea Fleet. Russia's Ministry of Defense claimed that eight unmanned aerial vehicles and seven unmanned surface vessels (USVs) were involved in the attack, and reported that the minesweeper Ivan Golubets sustained "minor damage."
Very epic footages from today's attack by drones on the Port in Sevastopol, Crimea
/1 pic.twitter.com/9kDbDBkWPV

— Special Kherson Cat ???????????? (@bayraktar_1love) October 29, 2022
After the Ukrainian attack, Russia withdrew the majority of its vessel assets to Novorossyisk, further away from Ukrainian shores. It also emplaced multiple floating barriers between its warship berths and the harbor entrance in order to thwart small-craft attacks. Analysts were quick to note that similar low-tech barriers would go a long ways towards warding off future attacks at Ukraine's fixed targets, like the Zakota bridge.
Though Russia has not previously announced a drone-boat development program, Russian forces captured a similar Ukrainian drone on the beach near Sevastopol in September, and would have had the opportunity to examine it. Russia also has extensive engineering capabilities of its own, along with access to technical assistance from the Iranian military, which has experience in the development of explosives-laden drone boats.