Video: Irish Army Boards Drug-Smuggling Bulker in Rough Seas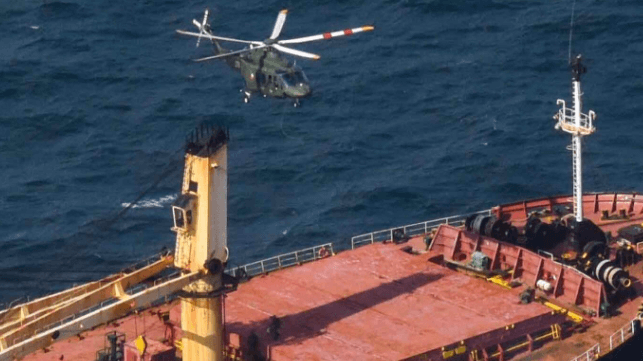 After a difficult underway boarding at sea, authorities in Ireland have detained a 50,000 dwt bulker that is believed to be laden with "a significant quantity" of drugs.
Based on the results of an extensive investigation, the authorities boarded the bulker MV Matthew in the early hours of September 26.
Irish Navy and Irish Air Corps assets participated, along with the Irish Army Ranger Wing. As the interdiction began, naval officers had to fire warning shots because the crew of the Matthew refused to stop to be boarded. From video of the scene, the vessel appeared to have its rudder hard over to port and the engine at full ahead as an Air Corps helicopter worked to hold position over the bow.
An Army boarding team fast-roped down from the helicopter and secured the vessel, and members of the Irish Navy, the Garda National Drugs & Organized Crime Bureau and Revenue's Customs Service were transferred aboard. The ship was taken into custody and escorted to the port of Cork.
The @IrishAirCorps played a pivotal role during the high profile joint security operation! Precision flying in tricky conditions was required to insert @defenceforces ARW operatives which resulted in the interception of a vessel carrying a substantial quantity of narcotics!???? pic.twitter.com/fpryfYrsUa

— Irish Air Corps (@IrishAirCorps) September 26, 2023
Three men aged 60, 50 and 31 were arrested during the operation on suspicion of organized crime offenses, and they are currently detained in Wexford.
Irish authorities believe that the Matthew was involved in a scheme to ship cocaine across the Atlantic and transfer the drugs to smaller vessels. A significant quantity of suspected drugs were located onboard the ship.
Ireland Minister for Justice, Helen McEntee TD, hailed the multi-agency team involved in the operation and described it a major win against organized crime. American, French and EU law enforcement agencies supported the investigation.
According to the BBC, the interdiction started with a rescue operation. A small trawler suspected of drug smuggling ran aground in rough weather off Ireland's eastern coast on Sunday night. It sent out a distress call, and an Irish Coast Guard helicopter team winched the two crewmembers safely off the vessel. Officials believe that the trawler may have rendezvoused with the Matthew for an illicit ship-to-ship transfer of cocaine.