Video: Grimaldi Con/Ro Catches Fire off Finistère
On March 10, the Italian con/ro Grande America caught fire about 140 nm off Finistère, forcing all 27 members of her crew to abandon ship.
The French maritime agency Premar Atlantique received a distress call from the America at 2000 hours Sunday night. Her master initially reported that the vessel would make her way to a port of refuge at A Coruña, Spain, but the situation on board quickly deteriorated. The fire grew out of control, with several containers burning on board, and the ship halted her course.
The Royal Navy frigate HMS Argyll diverted to the scene to provide assistance, along with the rescue tug Abeille Bourbon. At 0200 hours, with the fire worsening, the master of the Grande America ordered abandon ship, with all 27 crewmembers aboard one lifeboat.
According to the Royal Navy, the lifeboat was damaged by heavy seas as it launched and it was unable to make headway on its own. HMS Argyll launched her small boat, which pushed the lifeboat alongside the frigate so that the America's crew could transfer over. By 0400, Argyll's crew successfully brought all of the survivors aboard.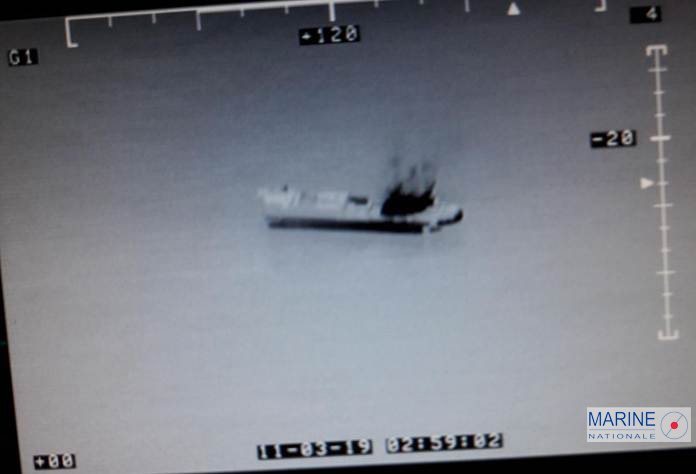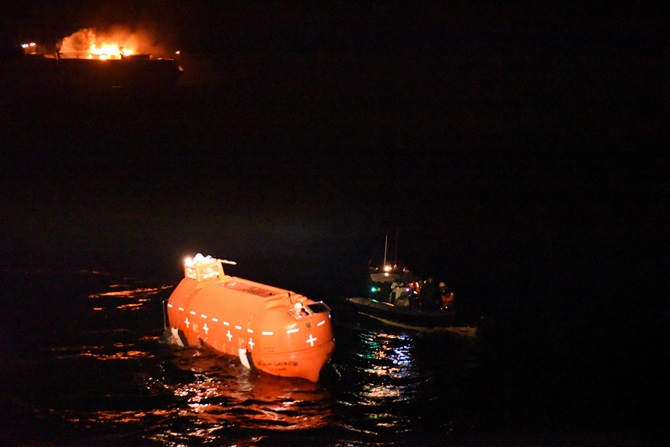 Courtesy Royal Navy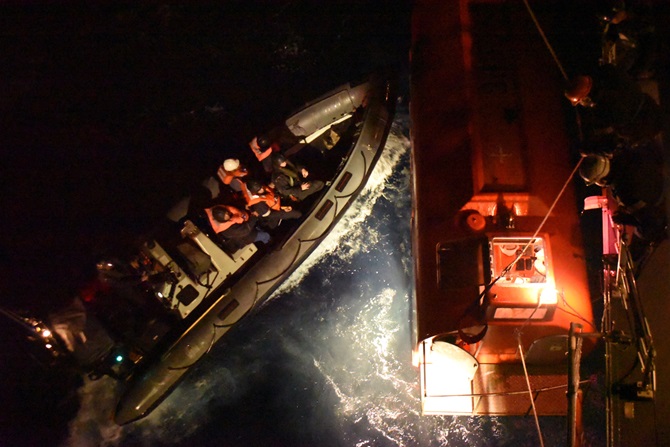 Courtesy Royal Navy
"The conditions were horrendous – the vessels were rolling at 30 degrees, which made it extremely hairy getting the sailors safely on board," said Lt. Commander Dave Tetchner. Cmdr. Toby Shaughnessy, the Argyll's CO, described the sea state as "on the limit for recovery."
None of the crew sustained life-threatening injuries, but several required hospital treatment. A medical transport helicopter based in Brest provided them with medevac services on Monday morning. "Every one of them suffered smoke inhalation," said Tetchner.
Premar Atlantique said in a statement that the Abeille Bourbon remains on scene and is working to fight the fire using her water cannon. The agency has asked the America's operator to formulate a salvage response plan.