Video: Freighter Goes Down off Great Abaco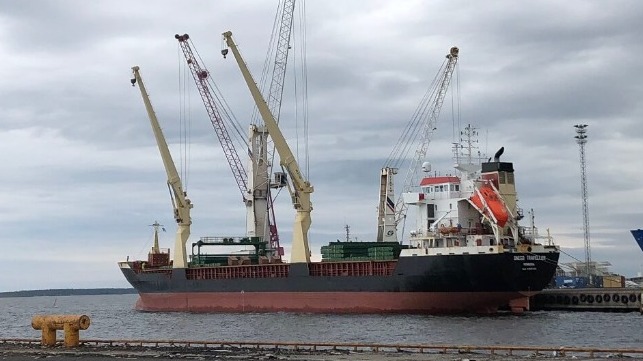 A freighter went down last week off the coast of Abaco, The Bahamas in foul weather, and salvors are working to reduce the risk of pollution.
The Antigua and Barbuda-flagged Onego Traveller began taking on water in her ballast system off the southern end of the island of Great Abaco, according to the Bahamian government. An attempt to intentionally ground her on a sandy beach was not successful, and she sank in shallow water, leaving the tops of her cranes and her wheelhouse exposed. AIS data provided by Pole Star suggests that she arrived off Great Abaco and ceased transmitting on December 25, though Bahamian statements indicate that the date of her sinking was December 29.
All 12 members of her crew were evacuated safely before the vessel went down.
At the time of the casualty, the Traveller was under way from Finland to New Orleans with a cargo of steel products and a water treatment chemical, Ferix (ferric sulfate) in bulk. She had both heavy fuel oil and marine gas oil aboard in her fuel tanks.
Fuel and Ferix cargo have both been observed at the surface, according to the Bahamian government. Booms have been deployed to contain any potential spill, and a dive team has been dispatched to seal up the vessel's fuel vents to control leakage. A skimmer boat has also been dispatched to mitigate any sheen at the surface.
BP Update| Live scenes of the MV Onego Traveller following distress around Hole in the Wall, South Abaco. The crew was rescued. pic.twitter.com/7vSb5JfQ6O

— Bahamas Press (@Bahamaspress) January 1, 2023
Onego Traveller was a 9,000 dwt geared freighter built in the Netherlands in 2002. She was operated by a German firm based in Cuxhaven, with ISM management provided by a Latvian shipmanagement agency.
The vessel's recent PSC inspection record was checkered; she was detained in Poland for a week last April for a broken VDR and MF radio, an underperforming fire pump and missing publications, according to Equasis. In all, PSC inspectors recorded 45 deficiencies aboard the ship within the last two years.