Video: Fire on Containership Near Pacific Entrance to Panama Canal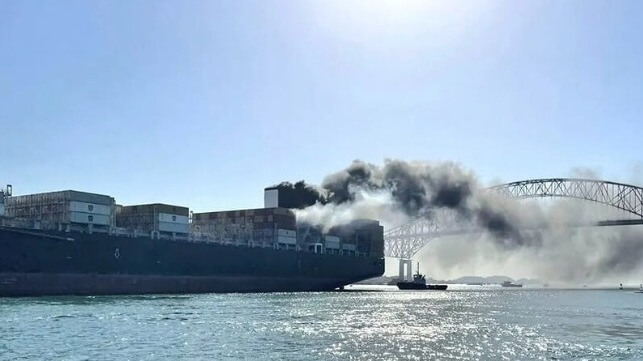 A containership operating under charter to MSC reported an engine room fire as it was arriving at the terminal in Balboa, Panama near the Pacific Ocean terminus of the Panama Canal. Traffic was briefing impacted in the Pacific Access Channel to the canal while two fireboats responded and helped maneuver the vessel. Another bulker was also reportedly "affected" according to the Panama Canal Authority with local reports of a possible minor collision during the incident.
The 11,000 TEU Cape Kortia was arriving in Panama after a trip from ports in South America including its last call in Callao, Peru. The 134,869 dwt vessel was maneuvering toward the PSA Puerto Panama International Terminal when the vessel reported a fire in its engine room. The video shows smoke billowing from the vessel's funnel.
Ocurre ahora. @canaldepanama pic.twitter.com/mu9iVy1r3S

— Mike Boloboski Ferreira (@MikeBoloboski) January 30, 2023
Vistas de lo ocurrido más temprano con el portacontenedores CAPE KORTIA. pic.twitter.com/g0MrSuGOUg

— PanamáAmérica (@PanamaAmerica) January 30, 2023
Cars crossing the Bridge of the Americas reported thick smoke blowing across the bridge while onlookers flocked to the water's edge to film the incident.
Reports said the vessel lost control before tugs from the Panama Canal Authority and fire crews from the National Aeronaval Service of Panama (SENAN) responded. The Cape Kortia, which is 1,082 feet long and owned by Costmare Shipping of Greece, possibly clipped a second vessel. The Panama media is identifying the vessel as a bulker, the Ernst Oldensoff (38,300 dwt), which was also bound for the terminal in Balboa.
The Panama Canal Authority reports there were no injuries and that traffic is moving normally through the canal.

Fire crews from SENAN responded while tugs moved the vessel from the shipping channel (SENAN)