Video: Explosion Rips Through Turkish Grain Port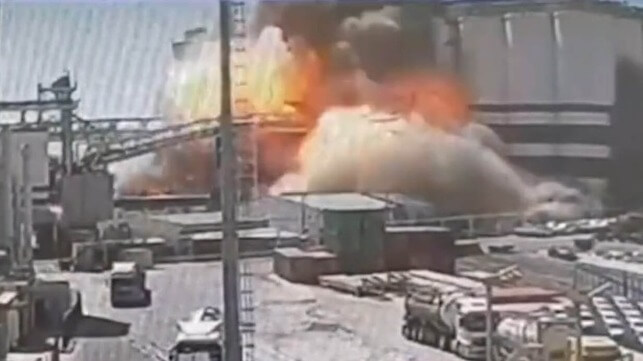 An explosion rocked the western Turkish port of Derince this afternoon injuring at least a dozen people in the port and causing extensive damage to the grain transfer and storage facility. Turkish officials were quick to announce they believed it was an industrial accident to allay fears of another earthquake or possibly an attack on the large facility located about 55 miles to the east of Istanbul operated by the government of Turkey.
Video images from the port camera show normal operations when at 2:40 p.m. local time the port was rocked by the explosion, which was followed by a large cloud of dust. Reports are saying as many as three of the grain silos appeared to explode with the shockwave shaking buildings more than a mile away from the port. Residents immediately feared an earthquake in a region that has experienced several large quakes.
People from across the bay began posting pictures on social media of the large explosion and resulting cloud over the port. Images released by the government showed multiple grain silos damaged and their contents spilling out.
???? Maalesef çok üzücü haber!

Kocaeli Derince Liman? mevkiinde
Toprak Mahsulleri Ofisi (TMO) silolar?nda büyük bir patlama meydana geldi. OHAL durumunda 8 milyona yak?n stok bulunuyordu. pic.twitter.com/FhbG12dLgq

— Mavi Türk ???????? (@Maviturkk) August 7, 2023
#Kocaeli'deki patlamada yaral? say?s? 12'ye yükseldi. #Patlama an?n?n yeni görüntüleri ortaya ç?kt?.https://t.co/zfX8XEwzep pic.twitter.com/5Lem087Hw6

— TRT HABER (@trthaber) August 7, 2023
"Initial evaluations show that an explosion occurred due to wheat dust compression during the transfer of wheat from a ship to the silo," the governor of the region Seddar Yavuz later told reporters. "We were told that it is technically possible that a blast could occur due to compression of wheat dust, but we are investigating every possible reason."
Emergency workers are reporting that at least a dozen people were transported to hospitals. Three people are reported to be more severely injured.
The facility is operated by the Turkish Grain Board. Officials said that they believed no one was killed or trapped and later that they had been able to account for everyone working in the port. They said a total of 13 silos and buildings were heavily damaged with reports of broken windows elsewhere in the surrounding area.
The police have launched an investigation into the explosion and activity in the port.