Video: Dramatic Rescue from Grounded Norwegian Fishing Vessel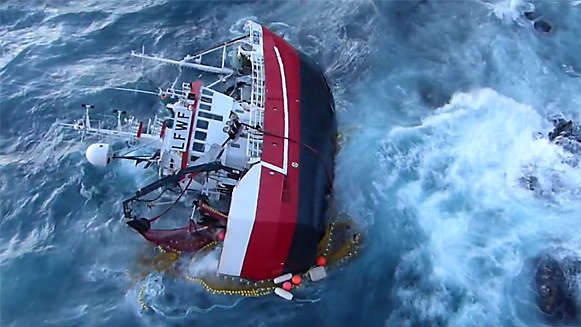 The Norwegian emergency response agency MRCC rescued five crewmembers from the deck of a grounded fishing vessel off Lofotodden in the Lofoten archipelago on the morning of January 4. The Kim Roger had gone aground in severe weather following a loss of propulsion, and surf was pounding her onto the rocks.
The rescue helicopter reportedly arrived just in time to save the crew. The Roger was over on her side and two crewmembers had just gone overboard, but all were safely airlifted from the wreck site within minutes and no injuries were reported. The crew were flown to Bodo for medical evaluation.
Local media said that the Kim Roger sank following the rescue.
Pilot and mission commander Per Johan Ødegaard, MRCC 330 Squadron, said that this was one of the more dramatic rescues he has conducted.
"We never felt that it was risky for us, but it was clear that with the water and the movement of the boat, the potential was there for it to go wrong. We are very aware of that when we send our rescuer down," he said, speaking to Norway's NRK.
"We also see the survivors clinging on and realize that they have a dramatic experience. It does have an effect on our crew," he added.
Additional video of the helicopter rescue is available here.