Video: Derelict Car Carrier Catches Fire in Philippines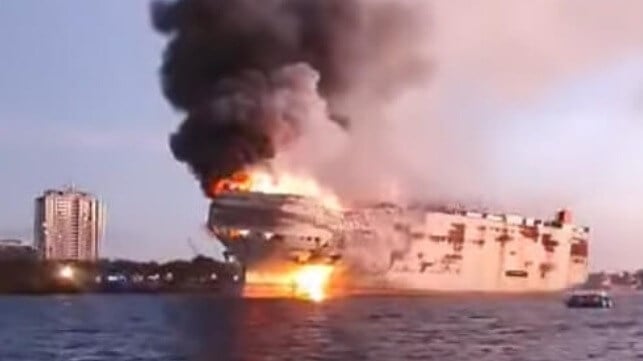 The Philippine Coast Guard and local fire departments in the central Philippines region of Cebu are fighting a blazing fire that is engulfing a derelict car carrier. The fire continues to burn several hours after being first reported with one of the Coast Guard's tugs augmenting the firefighting efforts.
The vessel is the former car carrier Diamond Highway, which has become a jinxed ship. Built in 2004 as the Utopia Ace, the vessel was operating in 2019 under charter to Japan's K Line. A 19,000 dwt car carrier, the vessel had a capacity of 6,354 cars.
The vessel was inbound to the Philippines on June 15, 2019, from Singapore when a fire was reported. The crew of 25 was forced to abandon the ship and later rescued by a bulk carrier. The vessel burned for days before the fire was contained. The hulk was initially towed to Batangas Port and later reported to be going to the Keppel Shipyard for repairs.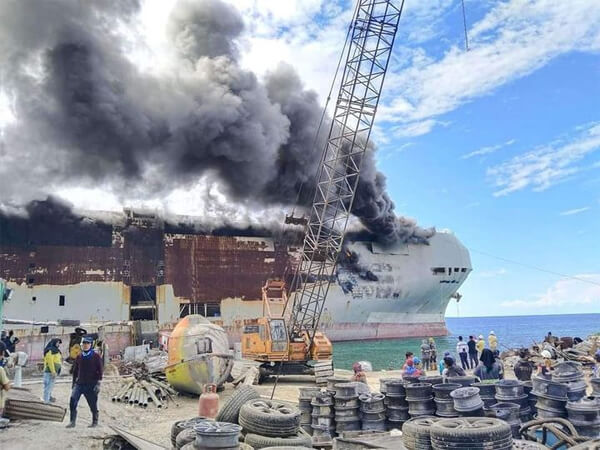 Scrap workers started the fire on the car carrier which was burnt out in 2019 and further damaged by a typhoon in 2021 (PCG photos)
In December 2021, however, the Diamond Highway was more than 100 vessels that sank or were stranded when a fierce storm, Typhoon Rai, swept across the Philippines killing more than 400 people. Reports indicate that the Diamond Highway was stranded by the storm suffering additional damage.
Today's fire reportedly began as crews were cutting away scrap metal in the area of the starboard bow. The Coast Guard is reporting that the scrap company's supervisor said that they safely disembarked all their personnel that had been conducting the scrap operation.
The Coast Guard is labeling the incident as ongoing issuing periodic progress updates as events continue.
ATM: Ongoing firefighting operations pic.twitter.com/UFd77jxnvz

— Philippine Coast Guard (@coastguardph) April 28, 2023