Video: Decommissioned Ship Intentionally Sunk Off Florida Panhandle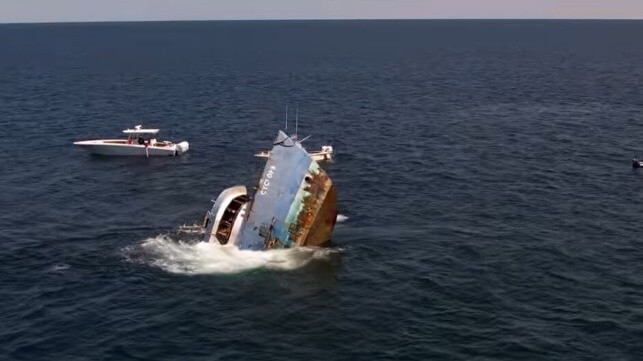 On Tuesday, a team hired by Okaloosa County sank a vessel off the coast of Destin-Fort Walton Beach, Florida. The reefed vessel will provide artificial habitat for fish and marine life on the bottom, creating ecosystem benefits and new attractions for anglers and divers.
The Okaloosa County Coastal Resource Team with Destin-Fort Walton Beach Tourism sank the 100-foot vessel RMS Cyclops at a position about four nautical miles to the southeast of Destin East Pass, sending her below in about 70 feet of water. The wreck came to rest upside down and can be found at 30° 20.838 N, 86° 26.239 W.
According to the county, this was the first reefing in state waters off Fort Walton in 20 years. Local officials plan further sinkings in the future, subject to appropriate state and federal permitting approvals.
Officials in Destin, Florida intentionally sank the RMS Cyclops on Tuesday to create an artificial reef that "provides marine life with a robust ecosystem." The vessel is now 72 feet deep and four nautical miles offshore, according to county officials. pic.twitter.com/Aqu5KNXH1Q

— CBS News (@CBSNews) April 19, 2023
"A lot of the vessels currently in state waters are getting old, they're breaking down and the dive and fishing industry are really screaming for some high profile, large artificial reefs for them to be able to visit with some of their more novice divers," Coastal Resource Manager Alex Fogg told local outlet Get the Coast.
Florida has an active artificial reef program and encourages localities to sink decommissioned vessels in appropriate sites for the creation of marine habitat. The state provides financial and technical assistance to local partners to support reefing projects, and it has spent more than $25 million on these initiatives to date. The Florida Division of Marine Fisheries maintains a catalogue of no fewer than 4,000 artificial reef sites, including the carrier USS Oriskany, the largest intentionally reefed vessel in the world.