Video: Chinese Feeder Ship Partially Submerged After Collision off Ningbo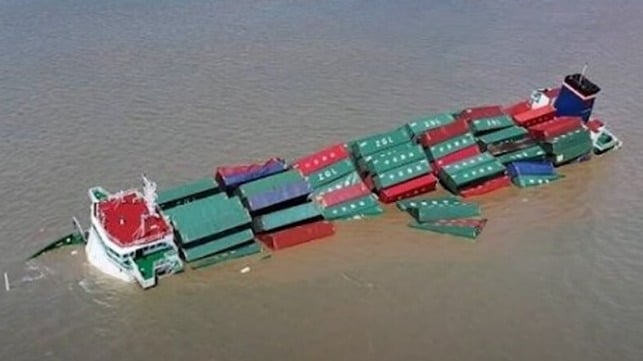 [Brief] A small Chinese feeder ship built to move containers from the Ningbo port is partially submerged in the harbor estuary after a reported collision. Chinese officials are saying that there were no injuries but the barge was lost in the collision. The containership is listing after having lost 40 or more containers.
The feeder ship had departed Ningbo on July 17 and was being used to reposition containers to Guishan. The 13,700 dwt vessel Xin Yuan Long 6 was built in 2021 and is 436 feet long. It transported up to approximately 900 containers.
Chinese media reports are saying the vessel collided with a sand barge in the busy estuary outside the port. The barge sank while the container vessel became partially submerged listing in different images to each side. It however is reported to have remained afloat.
The Ningbo Maritime Affairs Department said that the crew was removed from the containership. A salvage operation is working to retrieve the floating containers and stabilize the vessel.