Video: Bulker Driven Ashore in Winter Storm in Black Sea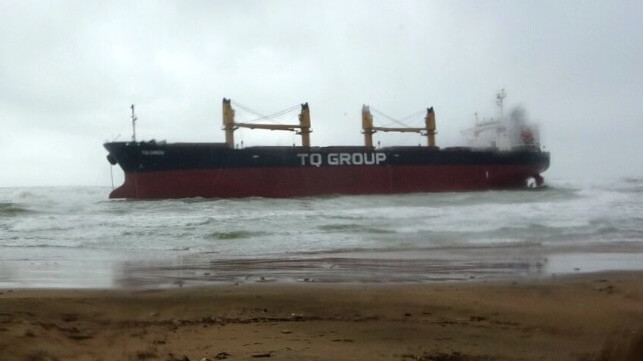 Winter weather has been hampering the efforts to continue the grain shipments from Ukraine. Today, a video appeared showing just how harsh the winter storms have been and their impact on some of the ships.
The TQ Ordu, a 46,500 dwt bulk carrier registered in Turkey, was driven ashore in a fierce winter storm. Weather data shows that it was near gale conditions with waves of 13 to 19 feet and winds at nearly 30 knots. The 600-foot bulker which was built in 2000 was sailing along the northern coast of Turkey and grounded near Sile.
The vessel is one of the ships conducting the grain export trade from Ukraine. It appears to have been waiting for clearance from the UN effort as one of approximately a dozen ships waiting for inspectors from the Joint Coordination Center. In recent days, the JCC has reported several times when inspectors were unable to reach ships because of the weather conditions.
The report said that the 24 crew aboard the bulker were uninjured and that the ship did not make an immediate call for assistance. Coastal security forces and the coast guard were standing by. According to the reports, the vessel's propeller was badly damaged but the hull appears to not have suffered any serious damage in the grounding. They were working on a rescue plan once the weather subsides.
The JCC reports that the shipments are continuing although slowed by the winter weather. They are reporting that 810 outbound voyages have now been completed with nearly 20.5 million tons mostly of corn and wheat. More than 80 additional vessels have also applied for participation in the initiative.