Video: Brazil Rescues Stowaways After 13 Days Atop a Vessel's Rudder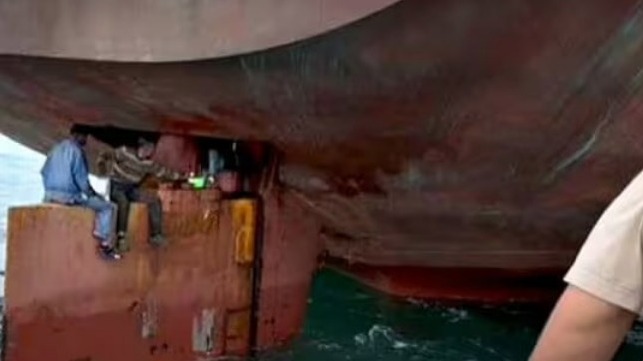 Brazilian police took into custody four men believed to be Nigerians that were found sitting on top of the rudder of a vessel after it completed a transatlantic crossing. It is believed they had been on top of the rudder, and possibly able to work their way up into a space above the rudder, for a total of 13 days.
The crew of the unnamed vessel registered in Liberia reported the discovery of the stowaways to the police when the vessel arrived at Vitória in Espirito Santo on July 10. It was at the completion of a voyage that had begun on June 27 in Lagos, Nigeria, and crossed the Atlantic non-stop.
Based on the story provided by the men it appears they traveled over 5,000 nautical miles on the rudder or possibly in the area with the steering gear. Their story is being told a day after Spanish authorities in the Canary Islands reported the third instance in recent months of finding African men on top of a rudder when a ship arrived. In the latest case, two young men were thought to have traveled 2,700 nautical miles perched on the rudder.
(Click picture to play TV news report with video of the rescue)
The Brazilian federal police went to the scene and confirmed the presence of four stowaways hidden in the space above the ship's rudder. They were rescued by the police, who said that they seemed to be in ill health possibly having not eaten or had access to drinking water for days. In the video supplied by the police to the local TV stations, the officers can be heard discussing how to rescue the men and one of the individuals tells them he cannot swim. They were providing lifejackets to the men.
For humanitarian reasons, a conditional disembarkation was authorized and they were transferred to shore for medical treatment and observation. They remain in the custody of the maritime authorities and under Brazilian law they will be returned home at the cost of the shipping company.
Brazilian authorities report that the men are identifying themselves as Nigerians, but they are said not to have any paperwork of identification. Their identities are under investigation.
Because the vessel they arrived on was continuing to Santos, the authorities are continuing to hold the men in Vitória. The shipping company has reportedly provided money for their return.