Video: Bangladesh Containership Tilts Losing Containers Overboard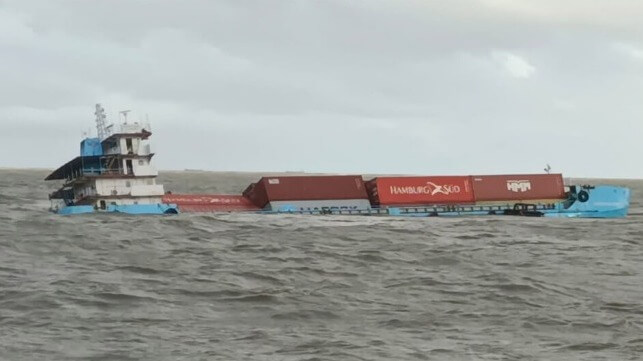 A small feeder ship moving containers coastally and inland in Bangladesh lost stability and partially sunk on July 6. The port authority is reporting that everyone was safely evacuated and that a salvage operation is underway.
The Pangaon Express is a 19-year-old vessel being used to transfer containers from the Bangladesh seaport of Chattogram along the coast and 157 nautical miles inland on the Meghna River to the Pangaon Terminal near the capital city of Dhaka. The feeder ship is 242 feet long and 3,000 dwt.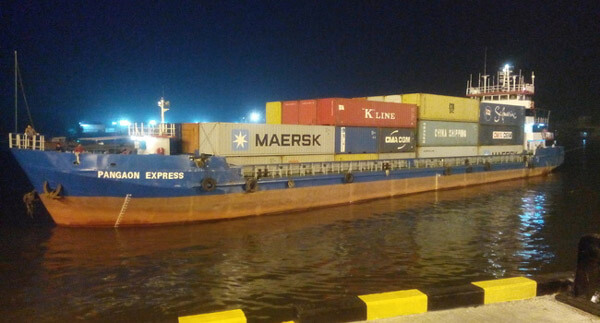 Pangaon Express in an undated photo from the port authority
Reports indicate the vessel departed Chattogram around 4:00 am local time and encountered heavy seas in the area near Bhasan Char island and the Sandwip Channel before reaching the river. The weather service had been warning of slight turbulence but reports are saying the Pangaon Express experienced strong winds and rolling seas as well as the tide. The captain reportedly attempted to navigate toward the coast.
The vessel issued a distress call around 11:00 a.m. on July 6 and the 12 crewmembers and two people from the Bangladesh Inland Water Transport Authority were evacuated aboard a fishing boat. They were safely transferred to shore.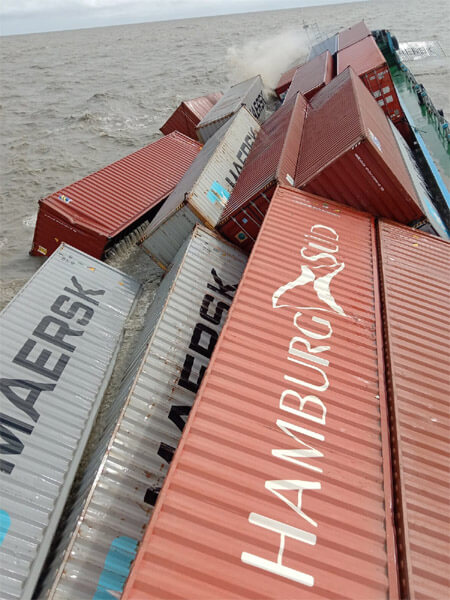 Containers toppled over on the ship (Bangladesh Navy)
The containers aboard the vessel shifted with reports saying three were lost overboard. The ship has a capacity of 96 TEU, although some reports are saying there were approximately 40 containers aboard. Images show the ship severely listing to port with at least one container floating nearby.
The Pangaon Express is owned by Chattogram Port and operated by a local company Sea Glory Shipping. The port sent its large tug and chartered a second tug to begin a salvage operation. They were attempting to remove additional containers and pump water from the ship. The Bangladesh Navy also responded with a vessel to assist with the salvage operation.
Chattogram is also warning ships in the area to proceed with caution and be on the lookout for containers in the water.