Veteran Wan Hai Vessel is First in a New Sustainable Recycling Model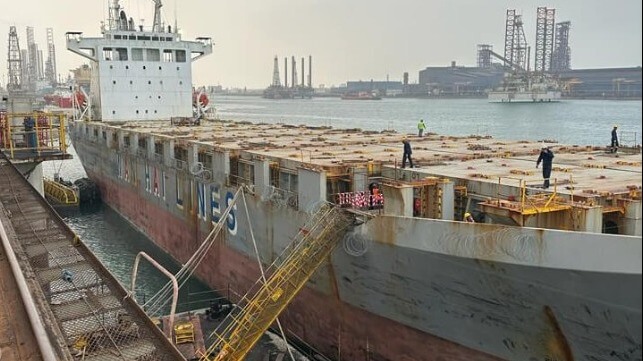 One of the containerships being retired by Taiwan's Wan Hai Lines is serving as a pioneer for a new sustainable and responsible ship recycling company launching in The Netherlands. Elegant Exit Company (EEC) is promising to use a new model buying in-service vessels nearing the end of their life and continuing as the owner and ultimately facilitator for the recycling working with steel makers and recyclers.
In December 2022, Wan Hai announced that it was launching a process seeking bids for the demolition of 10 older vessels. The company said it had developed a list of green recycling yards nothing that buyers would have to agree to use supervision and abide by the company's ESG requirements. Among the vessels was the Wan Hai 165, a 1,088 TEU containership built in 1988. The ship is 523 feet in length and 17,700 dwt.
"The fact that our game-changing concept has been validated through the winning of this ship in a global open public tender from an unrelated highly reputable and ethical company speaks volumes and solidifies our proof of concept," said Uday Yellapurkar, Chairman of Elegant Exit Company. He noted that the acquisition is "part of EEC's commitment to sustainable and responsible ship recycling practices."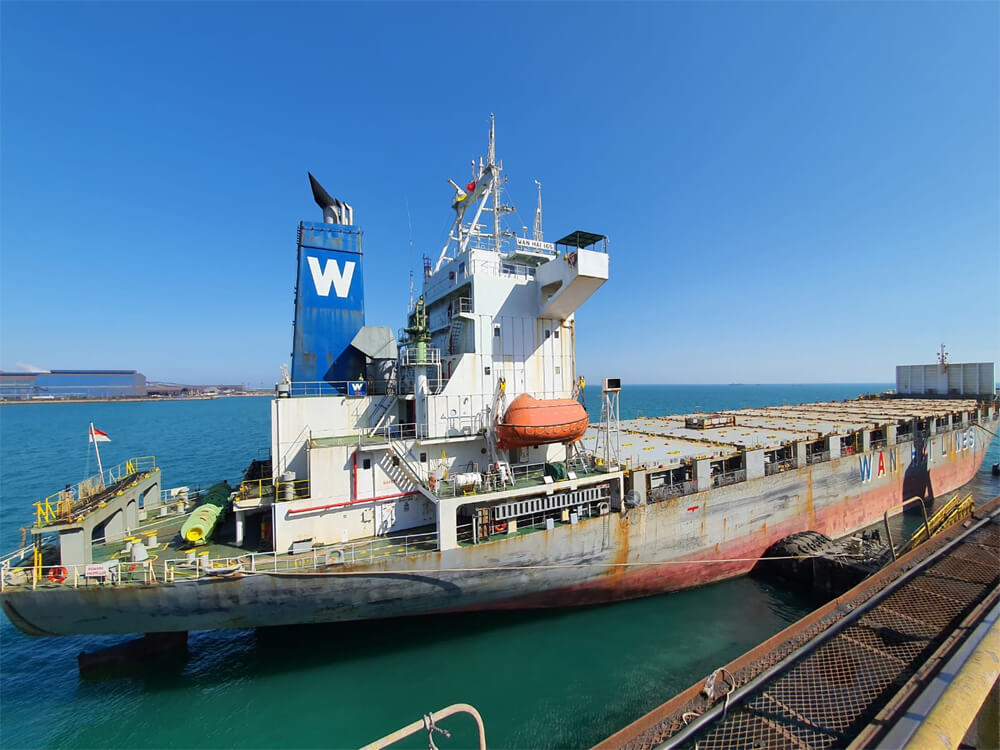 Portions of the vessel will be dismantled before it is hauled on to the slipway and cut into blocks up to 25 tons (EEC)
The Wan Hai 165 departed India on January 22 on her final voyage arriving on January 30 in Bahrain at the shipyard operated by Arab Shipbuilding and Repair Yard Company (ASRY). The regional repair yard is one of the partners working with EEC and reports that it is working to modernize and expand its operations.
"As a responsible member of the maritime industry, we must not tolerate harmful and dangerous practices of ship recycling, which are common practice across the globe," said Mazen Matar, Managing Director of ASRY. "We have now achieved compliance with the strictest international standards with a view to being able to offer a sustainable, responsible, and affordable alternative for vessel owners with end-of-life maritime assets. There is also natural synergy with nearby steel production facilities, which can benefit from this new initiative."
The ship is currently alongside at ASRY awaiting approval from the Supreme Council for Environment in Bahrain, a government entity in charge of the development of Bahrain's future strategy for the environment and sustainable development. Under the recycling plan, the Wan Hai 165 will be freed of hazardous substances. The accommodation block will be removed layer by layer. The ship will be placed in a floating dry dock to reduce its weight to approximately 4,500 tons, and then be pulled up the slipway for further processing. It will be cut into blocks of up to 25 tons for transportation to the secondary and tertiary cutting zones and the ultimate recycling.
The purchase of the Wan Hai 165 and the arrival of the vessel in Bahrain marketed a historic moment in the new sustainable ship recycling efforts. It was the first vessel acquired by EEC which says it will continue to buy vessels for prompt recycling. However, that is only part of their vision, which instead of being a traditional cash buyer, will instead be responsible to the buyer for EU SRR level recycling, the scrap sale, and the Hazmat and waste removal.
With a commitment to sustainability and innovation, EEC reports it will purchase and own a fleet of ships that will be operated until their planned recycling date. The company will also introduce a sale and leaseback construction model with the residual value and end of lease aligned with the recycling date, ensuring a streamlined and sustainable process.
EEC is poised to lead the way in sustainable ship recycling and management is confident that it will make a positive impact on the industry as a whole.