Venezuelan Navy Threatens Aid Ship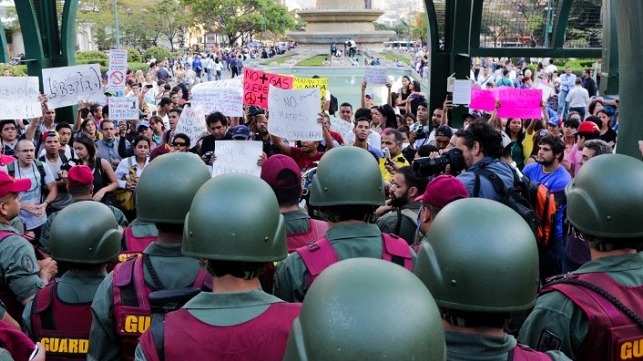 A Venezuelan Navy vessel threatened to open fire on a ship from Puerto Rico carrying humanitarian aid on Saturday. The vessel had six U.S. citizens on board, and Puerto Rican Governor Ricardo Rosselló said he has informed the U.S. government of the issue.
The Vanuatu-flagged ship, carrying around 200 tons of food and medicine in nine shipping containers, was threatened after entering Venezuelan territorial waters and subsequently retreated to Curaçao.
Venezuela has face political and economic turmoil over the last few years, and at least 2.7 million people have fled the nation since 2015. Violence continues in the nation where embattled President Nicolás Maduro is facing mounting opposition globally. Maduro, backed by Russia, Cuba and China, has said that aid deliveries would pave the way for U.S. military intervention.
Venezuelan opposition leader Juan Guaidó is backed by the U.S. Guaidó declared himself interim president last month after claiming irregularities in the nation's 2018 election render Maduro's leadership illegitimate.
U.S. Senator Rick Scott of Florida, a state with one of the largest Puerto Rican communities in the nation, said the U.S. would not tolerate any threats against American citizens. Scott has been critical of the Venezuelan government and issued multiple threats via Twitter over the last week.

The U.S. has already instigated sanctions against the largest state-owned oil company in Venezuela and pledged more than $20 million in humanitarian assistance.
On Saturday, convoys of U.S. aid were blocked at the Venezuelan border by troops loyal to Maduro, although there are also reports of defections among the soldiers too. Around 300 people were injured in associated violence.
U.S. Vice President Mike Pence is expected to announce "concrete steps" to address the Venezuela crisis when he meets with regional leaders in Bogota, Colombia, on Monday. U.S. President Donald Trump has in the past said military intervention in Venezuela was "an option."