Venezuelan Navy Interferes with Exxon Seismic Campaign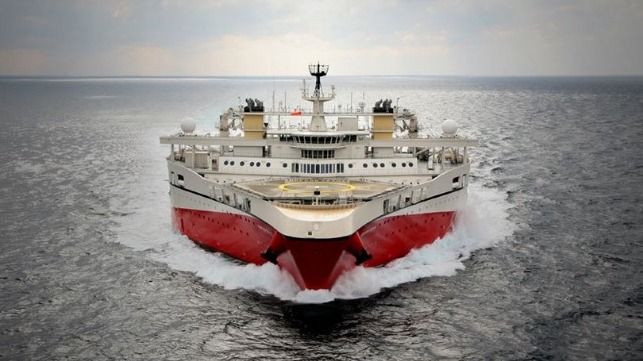 Venezuela's navy has forced ExxonMobil to pause its exploration program in a contested area of the Stabroek Block offshore Guyana. PGS, the operator of Exxon-chartered seismic vessel Ramform Tethys, said Sunday that Venezuelan military vessels approached the ship over the weekend, forcing her to alter course.
Guyana protested the intervention as a violation of "the sovereignty and territorial integrity of our country" and an "illegal, aggressive and hostile act." For its part, Venezuela claimed that the Tethys was operating in an area covered by "Venezuelan sovereignty" and that its navy had acted within international norms.
The United States, which does not favor the Venezuelan government of President Nicolas Maduro, protested the action. In a response, the U.S. State Department emphasized Guyana's right to explore for oil in its EEZ.
The new region offers strong potential for Exxon, which has already found five billion barrels of oil in the Stabroek formation. The 10,000-square-mile lease area lies about 100 nm offshore Guyana. Exxon is the operator and holds a 45 percent interest in the block, with a 30 percent stake for Hess and 25 percent for CNOOC.
Last year, Exxon and Hess made a final investment decision on the first phase of development for the Stabroek Block's Liza field, one of the largest oil discoveries of the past decade. The Liza Phase 1 development includes a subsea production system and an FPSO designed to produce up to 120,000 barrels of oil per day. Production is expected to begin by 2020, less than five years after discovery of the field. Ultimately Liza will develop about 450 million barrels of oil.
While promising for Exxon and for Guyana, the Stabroek formation overlaps with longstanding Venezuelan claims. Since the end of the colonial period, Venezuela has claimed a wide strip of Guyana west of the Essequibo River. The shoreline portion of this territory would imply a Venezuelan EEZ, which could include a portion of the Stabroek Block. Venezuela has called on Exxon to postpone drilling and production in the lease area until the 50-year border dispute is settled.