Vancouver Welcomes MOL's Newest Car Carrier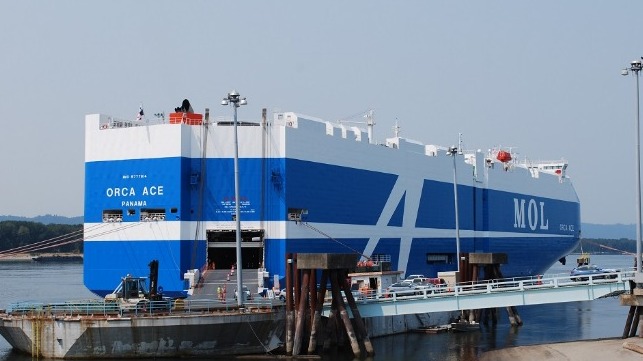 On Wednesday, the Port of Vancouver, Washington welcomed the car carrier Orca Ace, commanded by Capt. Yury Golovatyuk of Russia, on her maiden voyage.
Capt. Golovatyuk and his 22-member crew were welcomed to Vancouver by representatives from Ports America, Norton Lilly International, Subaru of America, Auto Warehouse Corporation and the Port of Vancouver USA.
The Orca Ace, a "Next-Generation Car Carrier" cargo ship for autos and roll on/roll off cargoes, was built in Japan. She is 656 feet long with a deadweight capacity of 15, 500 tonnes. Her specially designed hull shape and improved two-stroke engine help reduce carbon emissions as she transits the globe. She is owned by Lunar River Line S.A. of Panama and operated by Mitsui OSK Line Ltd. (MOL).
The Orca Ace began her journey to the United States in July 2018, departing from Hitachinaka, Japan. Once berthed at the Port of Vancouver USA, International Longshore and Warehouse Union crews discharged 2,300 Subaru vehicles to be processed at the port and shipped to buyers across the Northern U.S.
After discharging Subarus in Vancouver, the Orca Ace will sail to other ports on the U.S. West Coast. San Diego is the final destination on her maiden voyage.