USS Wasp Trials New Aircraft Landing System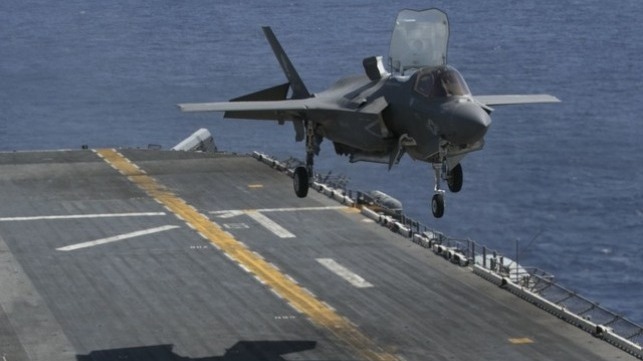 U.S. Marine Corps F-35B Lightning II fighters deployed to the Pacific on board the USS Wasp amphibious assault ship have successfully tested Raytheon's Joint Precision Approach and Landing System (JPALS) to guide them onto the ship's deck in all weather and surface conditions up to Sea State 5.
The system allows precise landings through GPS receivers and an encrypted, jam-proof datalink connecting to software and receiver hardware on the aircraft and an array of GPS sensors, mast-mounted antennas and shipboard equipment.
The system is slated to go into production in 2019 and will be outfitted on F-35 Lightning II fighters, the Navy's newest fighter, assisting pilots to land with greater accuracy. A jet landing on the deck of an aircraft carrier goes from about 150 mph to zero in seconds. The Navy has a 20-centimeter vertical accuracy requirement, so that the hook hits the wire every time. In 38 attempts in one test, the aircraft captured the wire every time.
JPALS will also provide shipboard air traffic controllers with information on the exact location of outfitted unmanned and low-observable aircraft. This will create a hybrid environment, in which both manned and unmanned aircraft can be rapidly marshaled and recovered during flight operations.
Raytheon also demonstrated how its Low-Power Radar (LPR) can provide precision approach guidance to landing aircraft from 15 nautical miles, which is five more than the current capability, to military officials representing the U.S. Navy, Army and Air Force last month.
LPR is a small, one-meter square Active Electronically Scanned Array, or AESA, multi-mission x-band radar ideal for precision approach landings, aviation surveillance, precision weather observations and small drone detection and tracking. LPR's origin as a weather radar gives it an advanced dual-polarization capability that allows it to discern between heavy rain, hail, snow and sleet. It can also detect non-meteorological echoes from ground clutter, birds and tornado debris. It does this by transmitting and receiving both horizontal and vertical polarizations, unlike most radars that only transmit and receive radio waves with a single polarization.