USS McCain Exits Drydock After Collision Repairs
The USS John S. McCain is afloat once more, nine months after she entered drydock in Yokosuka to repair damage from a collision with a merchant tanker. Thanks to the efforts of personnel from nearly a dozen Navy commands, shipbuilder Bath Iron Works and Japanese contractor Sumitomo Heavy Industries, USS McCain now has a fully restored hull, a new port thrust shaft, and newly constructed berthing spaces.
Preparations for her return to service will continue alongside the pier, and she is expected to be ready for a period of sea trials early next year. According to a spokeswoman for Ship Repair Facility-Japan, the McCain's $220 million overhaul is one of the largest projects that 7th Fleet's yard has ever undertaken.
"I'm proud of and thankful for every person who has worked together to move USS John S. McCain another step closer to both normalcy and sailing again with U.S. 7th Fleet," said Cmdr. Micah Murphy, the destroyer's commanding officer. "There is still a lot of work to be done, but I remain impressed by the incredible teamwork, determination and flexibility shown daily by this crew as well as the SRF Project Team to return a better, more lethal warship to the fleet."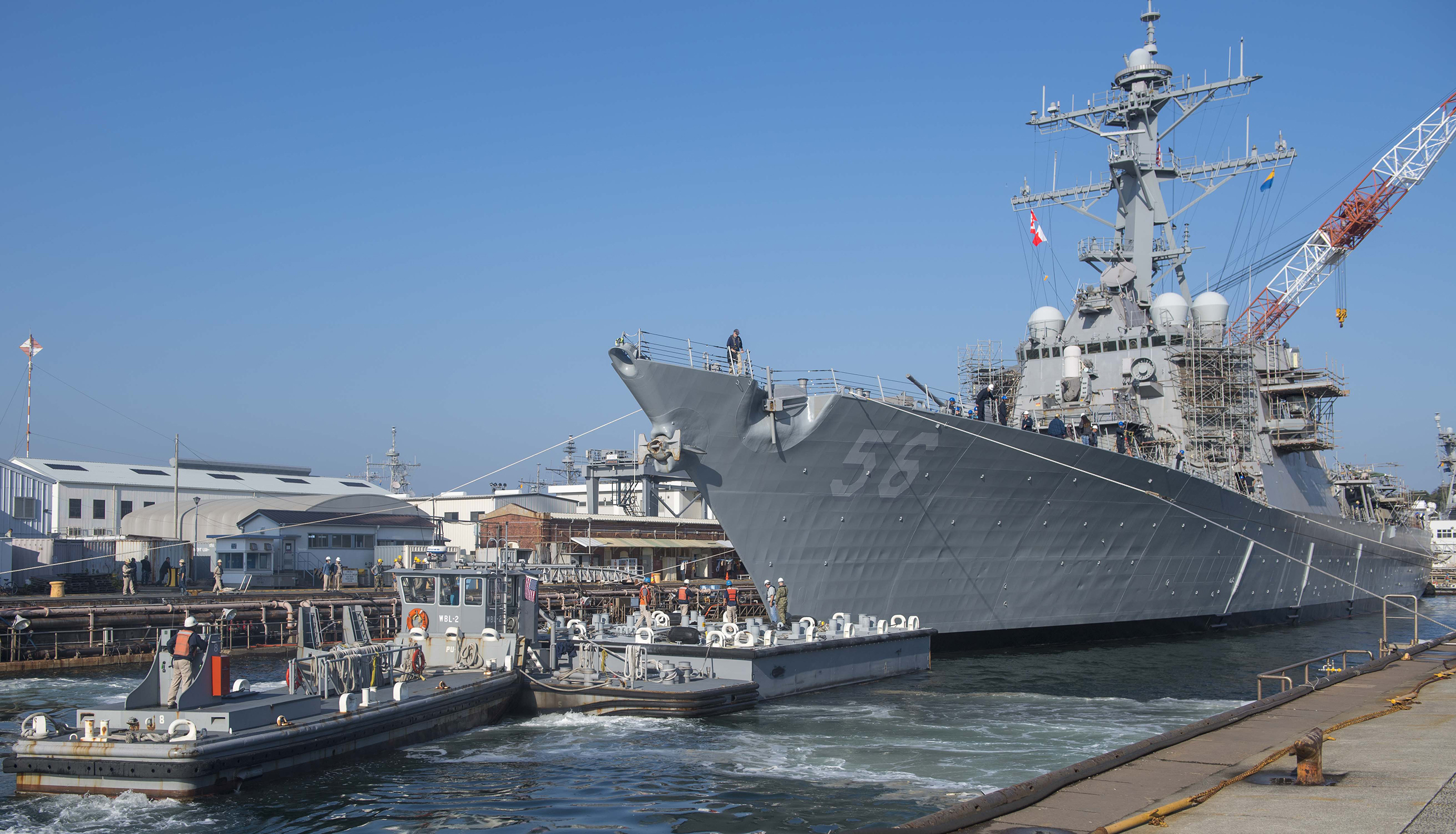 The USS McCain afloat once more in the drydock at SRF-Japan (USN)
USS McCain collided with the merchant tanker Alnic MC while underway near the Strait of Singapore on August 21, 2017. In a rapidly-evolving chain of errors, her bridge team developed a false impression that the destroyer had lost steering, then veered into an adjacent traffic lane and crossed the bow of the Alnic MC. The team was not aware of the approaching tanker until the collision. Ten sailors lost their lives in the flooding that followed.
After the incident, the McCain transited to Changi Naval Base, Singapore for temporary repairs and loading onto a heavy lift ship. The Navy decided to repair the McCain in Yokosuka rather than incurring the additional time and expense of shipping her back to a yard in the United States. The destroyer USS Fitzgerald, which also suffered extensive damage in a collision in the Western Pacific, was shipped to Ingalls Shipbuilding in Mississippi for a more complex set of repairs.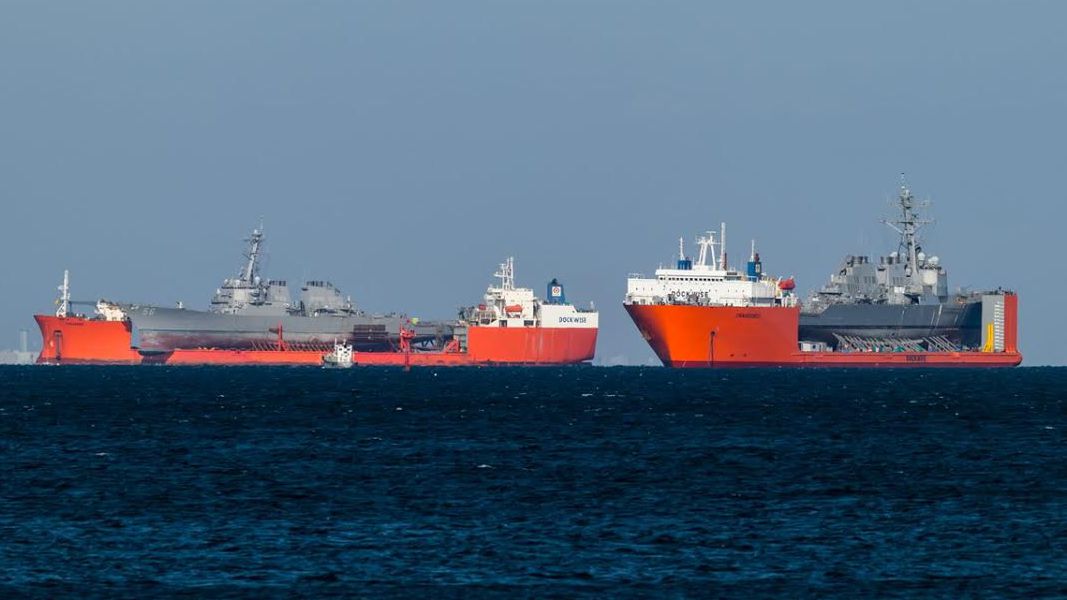 The damaged Arleigh Burke-class destroyers USS McCain and USS Fitzgerald aboard heavy lift ships in Tokyo Bay, December 2017 (Syke Minadzuki / Twitter)
After the two deadly collisions, the U.S. Navy conducted several reviews of readiness at Seventh Fleet and throughout the service. It found that high operational tempos and little down time had allowed serious deficiencies to develop, especially in forward-deployed units. "These [deviations] culminated in a Navy culture replete with examples of accepting 'good enough' for the moment rather than the imperative of what is vital for the future," the Navy's strategic review panel wrote.