USS McCain Begins Journey to Yokosuka Dockyard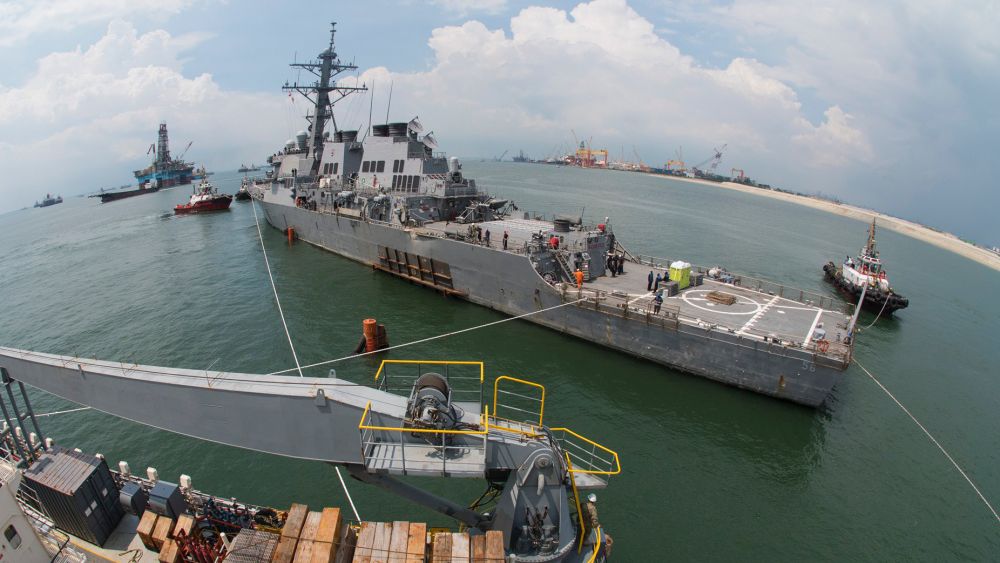 The Naval Sea Systems Command's supervisor of salvage and diving completed preparations to transport the USS John S. McCain to Yokosuka, Japan on October 11, the Navy announced Friday. The heavy lift ship Treasure has departed Singapore with the McCain aboard, and she is expected to arrive at Seventh Fleet's naval dockyard at the end of October.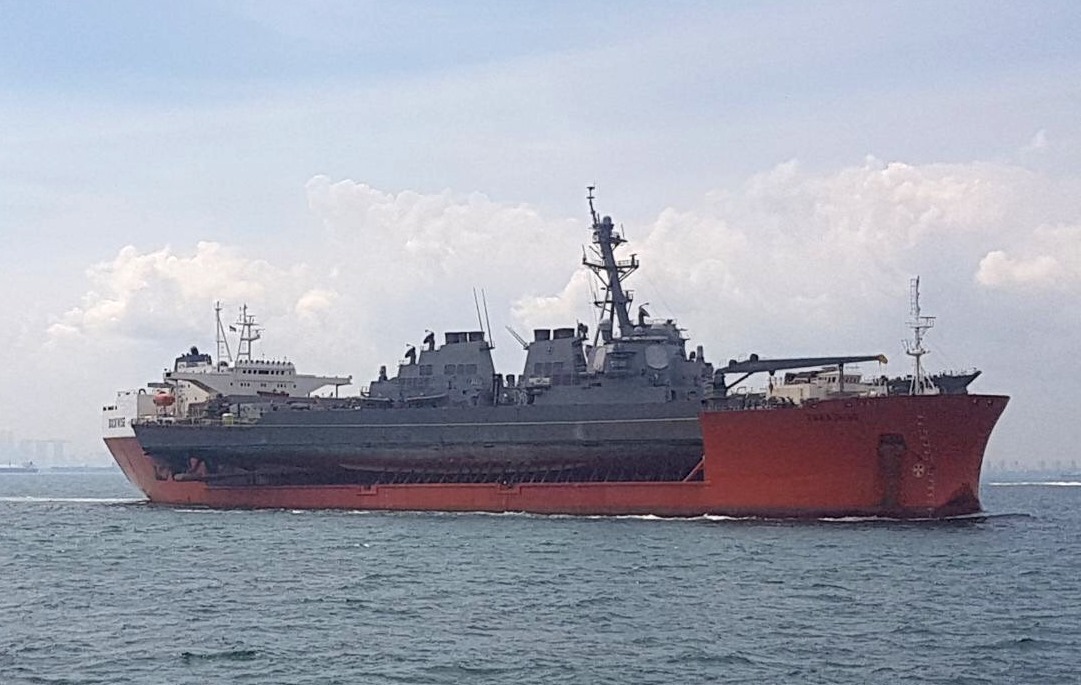 Image courtesy USN
"SUPSALV engineers led the design and installation of a temporary hull patch, developed the heavy lift technical plans/logistics and supervised removal of the ship's propeller blades by Navy divers before loading USS John S. McCain aboard the transport," said Capt. Keith W. Lehnhardt, SUPSALV director of ocean engineering.
An underwater ship husbandry operations specialist planned the removal of the ship's propeller blades prior to loading, a necessary step for loading the destroyer on to the Treasure's flat deck. Also, a heavy lift/towing engineer, a salvage engineer/naval architect, heavy-lift officers from SUPSALV's naval reserve detachment and a naval architect from the U.K. Ministry of Defence led the technical, operational and logistical aspects of the effort. These specialists supervised the development of the engineering package and verified the fabrication and installation of the blocking support structure for loading and securing the McCain aboard the Treasure.
"Once the team verified USS John S. McCain was properly aligned over the blocking on MV Treasure, approximately eight hours were spent de-ballasting the merchant vessel to lift USS John S. McCain out of the water," said Lehnhardt.
On the morning of August 21, the McCain was involved in a collision with the merchant vessel Alnic MC while underway off Singapore. Significant damage to the McCain's hull resulted in flooding to multiple compartments, including crew berthing, machinery and communications areas. Damage control efforts by the crew halted further flooding, but 10 sailors were killed and five were injured.
The Navy has determined that it has the capability to repair McCain at its own Seventh Fleet dockyard in Yokosuka, saving the time and expense of shipping her across the Pacific to a yard in the mainland United States. McCain's sister ship, USS Fitzgerald, suffered more extensive damage in a collision earlier in the year, and will be repaired at Ingalls Shipbuilding in Mississippi. The combined cost of fixing the damage to the two vessels could exceed $600 million, and the Navy will seek supplemental funding to cover the unexpected expense. "We're going to have to go back up on the Hill because that's outside our budget numbers," said Secretary of the Navy Richard Spencer.